We should call this podcast episode, does Pilates make your bum smaller and other stupid stuff we should all stop Googling. Let's get this straight, right here and now, your bum is amazing. Just as it is.
Small butts, bigger bums, round booty, flat booty. All great bums!
No matter what your butt actually looks like, your butt muscles help you do many things!
They help you walk, sit, push, and pick stuff up. Strong gluteus medius and gluteus maximus and gluteus minimus, or what we like to refer as your booty, also help you stand with better posture. Meaning, less back pain and potential back injuries.
Ahh, yes there are so many amazing reasons to work your booty, whether it be strength training in the gym with a personal trainer, or Pilates at home with our MerryBody Yoga and Pilates App.
We chatted about this topic on our podcast, this is what we spoke about.

Beauty ideals are forever changing! Right now, it's all about that big round booty on a shelf, but let's throwback to the 1990s when the beauty ideal was flat bum and boobs.




Even when we have self-acceptance and awareness of diet culture, it's very easy to fall back to the mindset that our worth is based on what we look like.

Let's flip the conversation and realise that we're doing a certain workout not just for looks but to work a certain muscle for another reason.




Check in with your reason and motivation behind why you're exercising. It makes you stronger and more flexible. It also helps maintain a healthy mental state. These are two amazing things that happen when you set aside time for exercise.
Although you might be under the impression you need to lift heavy weights to work the booty, we'd invite you to try this one Pilates move to see just how amazing Pilates is for your butt.
Here's a photo of Emma, the MerryBody Pilates instructor showing one of her favourite moves, all 4s tabletop. You'll see her left leg is extended strong, she'll then add movement and this is when it's important to engage the butt muscles and therefore work the booty! Whether it's a single leg tap, leg kick or bend extension, the booty is working.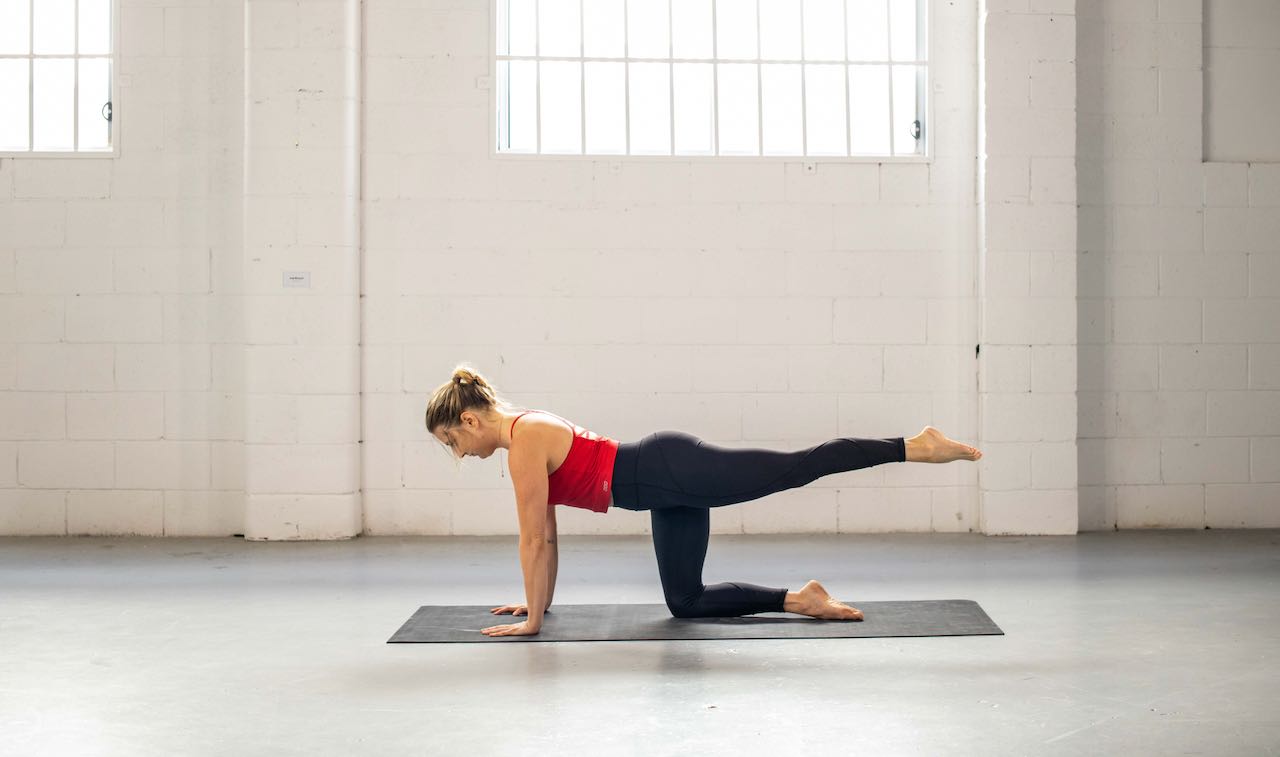 This move uses body weight to strengthen the full body. But to make this movement and all other Pilates exercises more effective, you must do them with control and precision.
It's important to really extend your legs, no floppy legs. You must use your core to help stabilise your body, the work comes in the movement and the stability.
Pilates really is the most amazing booty workout!
Check out all the Get Merry Podcast episodes on iTunes and Overcast and Stitcher for Androids. Plus we are on Spotify over HERE!
Always merrymaking,
Emma + Carla
Ps. Please remember that our advice is never a substitute for professional medical advice diagnosis or treatment.
Pp.s if you ever need further help or guidance please contact Lifeline or Beyond Blue. Asking for help is pure courage.