We love a good paleo crumble. FACT.
1: because they're so yummy and 2: because they're SO easy. Oh and 3 because they're guaranteed crowd pleasers!
Especially when you serve with coconut icecream or yoghurt! Let's all say it together: DEEEEEEELISH!
We used nectarines, peaches, kiwi fruit, apricots, mango and mixed berries for our crumble but really, you can use whatever fruit you like. What ever is in season goes! And the best bit is that this recipe requires NO NATURAL SWEETENER! Boom!
THINK: apple, pear, strawberry, blueberry, banana… the only one we think that wouldn't work would be watermelon… or any melon for that matter, that just wouldn't be right.
SO! We're saying, get creative with your fruit, chop it all up and then sprinkle with our amazing 'BEST Paleo Sweetener Free Crumble Ever' topping and whack it in the oven! It really is that easy! Our crumble is the BEST ever because we used ghee! And ghee is like caramelly goodness!
If you make it, be sure to share a pic on social media and tag us with #themerrymakersisters then we can share our faves with the world! Yay!
Always merrymaking,
Emma + Carla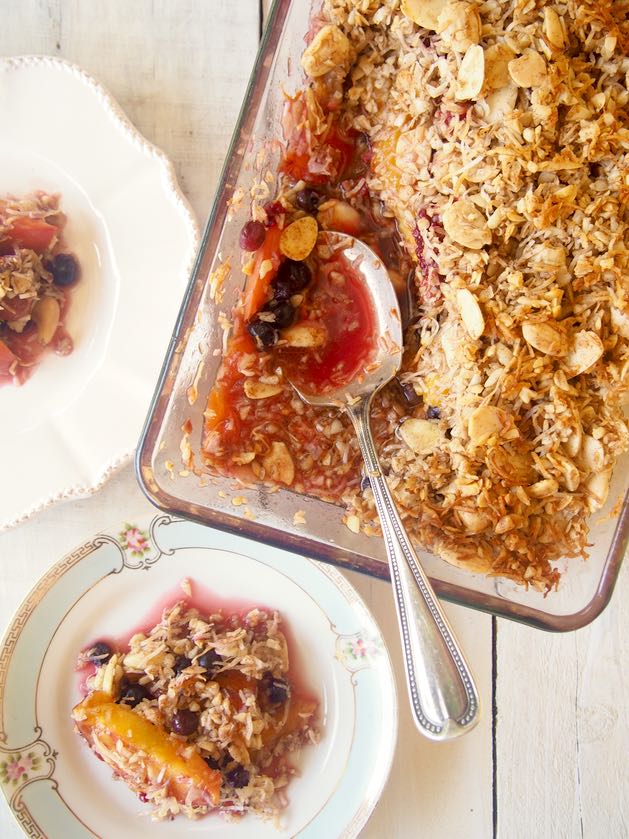 p.s our book Make It Merry has over 70 of our all time fave recipes! You can find it in hard copy and eBook HERE!


best ever sweetener free paleo crumble
2015-10-31 04:21:41
Serves 8
Ingredients
3 apricots chopped
2 peaches chopped
2 nectarines chopped
1 mango peeled and chopped
1 kiwi fruit peeled and chopped
1 cup berries (fresh or frozen)
1 cup shredded coconut
1 cup chopped macadamias
1/2 cup flaked almonds
1/4 cup melted ghee, we use Primal Collective (you could use butter/coconut oil)
1 tsp. cinnamon
1 tsp. 100% vanilla extract
pinch of salt
Instructions
Preheat oven to 180°C (350°F).
In a baking dish place all of the fruit, mix carefully.
In a bowl combine the coconut, macadamias, almonds, salt and cinnamon.
Add the ghee and vanilla and mix until combined.
Sprinkle the crumble mix on top of the fruit and cover with foil.
Place in to the oven for 40 minutes. If the crumble hasn't browned, remove the foil and cook for a further 5 minutes, keeping an eye on it so it doesn't burn baby burn!
Merrymaker tip
This crumble works with any fruit! Grab a bunch of fruit that's in season and get crumbling!
Merrymaker Sisters | MerryBody Online Studio: Unlimited Yoga, Pilates and Meditation https://themerrymakersisters.com/