One of our fave things to do is go out for brekky and it seems that the 'Breakfast Salad' keeps popping up on all the 'cool place' menues.
And we flipping LOVE them! Serious yum-ness and nourishment in a bowl! But we thought, why pay $20 bucks for a Breakfast Salad when we can make our own and share the recipe with all you amazing Merrymakers?!
Our thought process is completely correct here.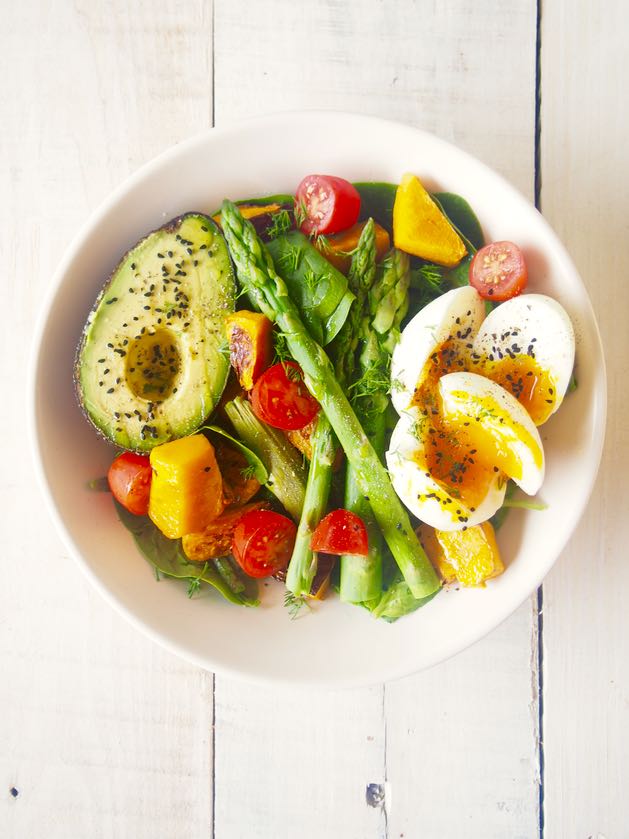 And it's lucky for you because now you get to have delicious healthy breakfast salad at home! The best thing is that this recipe is ridiculously easy and oh so tasty! We reckon it's PERFECT for Boxing Day (nice and light after all that Christmas food!).
Just the right amount of greens, eggs, crunch and avo deliciousness! We're all about getting more greens in to your day. This will do that.
Are you digging the new Breakfast Salad Bowl craze? Now you will! If you eat this for brekky… you'll be kicking your new years goals in the butt in no time! Trust us!
Always merrymaking,
Emma + Carla
p.s if you're looking for even more recipes just like this one (yes, recipes to make you feel amazing) then join our Make Life Merry 4 Week Program! Done for you meal plans, shopping lists, never before seen recipes, expert webinars and an #awesome private Facebook group to keep you accountable and on track!

Healthy delicious breakfast salad bowl
2015-11-05 05:41:29
Serves 2
stuff you need
1/4 pumpkin peeled and cubed
6 asparagus spears, trimmed and halved
6 cherry tomatoes halved
4 soft boiled eggs
1 avocado, halved
2 cups baby spinach
1 tbs. chopped fresh dill
1 tbs. macadamia oil
Olive oil to drizzle
Spices to sprinkle (we used nigella seeds)
Salt and pepper to season
Now what
Preheat oven to 180°C (350°F) and line a baking tray with baking paper.
Place the cubes of pumpkin on to the tray and drizzle with macadamia oil, season with salt and pepper.
Place in to the oven for 10 minutes, stir and bake for a further 10 minutes.
Meanwhile, in a medium saucepan bring the water to a boil.
Place the asparagus in to the water, turn down the heat and simmer for 5 minutes.
Use tongs to take out the asparagus and set aside.
Place the eggs in to the water and bring to the boil again, turn down to simmer and cook the eggs for 6 minutes (this will make soft yolks, boil for longer if you'd like hard eggs).
Run the eggs under cold water and carefully peel.
Now assemble your salad!
Place the baby spinach in to bowls, add pumpkin, asparagus, tomatoes, avocado and eggs.
Sprinkle with fresh dill, spices, salt, pepper and a drizzle of olive oil! Wa-LAH!
Merrymaker tip
This is the perfect meal for when you have left over roast pumpkin/veggies!
Merrymaker Sisters | MerryBody Online Studio: Unlimited Yoga, Pilates and Meditation https://themerrymakersisters.com/