Yeah, we did it. And it was a complete accident too! We made gluten free and refined sugar free kingston biscuits! Heck to the yeah yeah. Boom shake the room.
You know the ones? The caramelly double decker bikky delights from your childhood (or maybe your adulthood/the days when you dipped biscuits into your tea?). Been missing them? Well, stop, because we've come to your rescue with this totally yum, totally easy-as recipe! YAY for easy recipes. YAY for delish biscuits. YAY for YOU making them!
These gluten free and refined sugar free kingston biscuits are the perfect idea for your next morning or afternoon tea. Or, do like we did, make a batch and gift them to a friend! They'll be like… omgosh you're my fave because these biscuits are just too damn delish, can we group hug now?
If you do make these, let us know by sharing a pic on social media! Use #GetMerry and we'll share our faves with the world!
Happy, Merry days!
Always merrymaking,
Emma + Carla
P.s we've added this recipe to the Get Merry app! Check it out in the Sweet Treat section yo!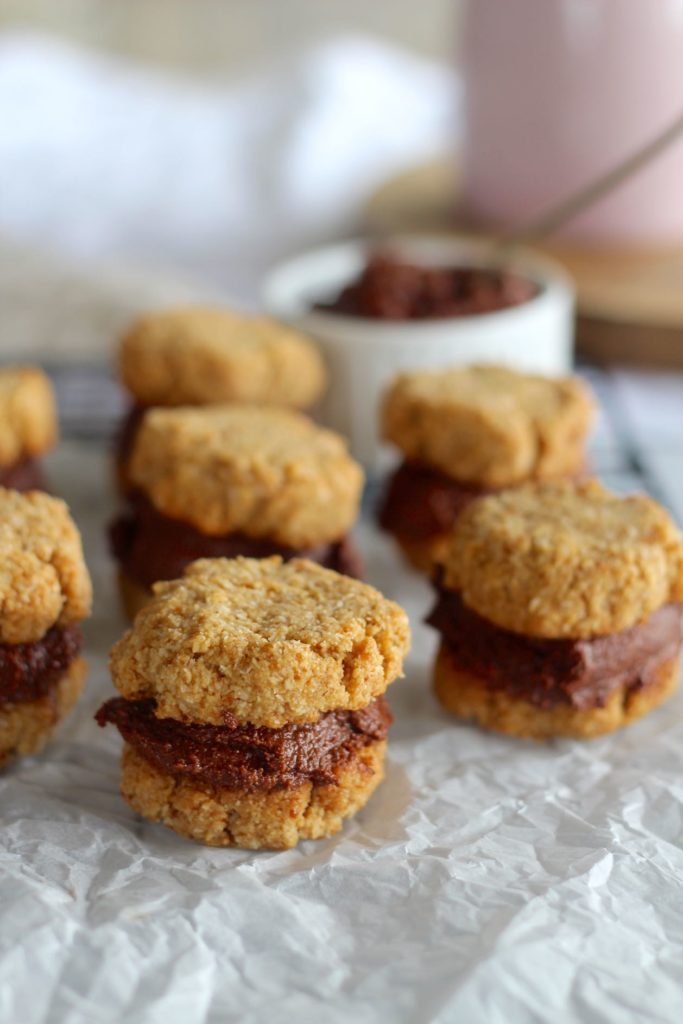 Healthy kingston biscuits
2018-03-02 03:11:17
Serves 12
FOR THE BISCUITS
2 cups blanched almond meal
1 cup dessicated coconut
1/2 cup coconut sugar
1/2 cup coconut oil or butter softened
1 egg whisked
1 tsp. baking powder
1tsp. 100% vanilla extract
pinch of salt
FOR THE CHOC FILLING
1 cup dessicated coconut
1/2 cup almonds
1/2 cup raw cacao powder
1/2 cup coconut oil or butter softened
1/4 cup coconut sugar
1 tsp. 100% vanilla extract
NOW WHAT
Preheat oven to 180°C and line a baking tray with baking paper.
In a large bowl mix all the dry biscuit ingredients: almond meal, coconut, coconut sugar, baking powder and salt.
Add the egg, coconut oil, vanilla and mix until a stick dough forms.
Roll tablespoons of dough and then place onto the baking tray, flatten slightly and mould the sides of the cookies so they are nice and round.
Place into the oven for 15 minutes or until golden brown underneath.
Allow to cool (and just TRY to not taste test... we bet you can't resist, OMGosh so yum!).
Either stop here, or go the extra mile with the choccy filling!
Place all the filling ingredients into a blender or food processor: coconut, almonds, cacao, coconut oil, coconut sugar and vanilla.
Whiz until a thick, smooth filling forms.
Place big dollops of the filling onto the base of one cookie, and then place another cookie on top.
Continue until there are no more cookies!
Now enjoy! We stored ours in the fridge for 5 days in an air tight container.
MERRYMAKER TIP
Add choc chips because... why not?!
Merrymaker Sisters | MerryBody Online Studio: Unlimited Yoga, Pilates and Meditation https://themerrymakersisters.com/