These easy gluten free vegetable fritters are the perfect recipe for your next weekend breakfast. Actually, we think fritters make the perfect breakfast, lunch, dinner and snacks!
Plus this recipe is super easy. They're gluten free, grain free but they stay together perfectly!
They also taste all kinds of amazing.
Seriously, fritters are without a doubt the best way to eat vegetables. Mixed with eggs, fried in butter or coconut oil. You can't go wrong!
But you can go better!
We think adding bacon to this recipe would be epically delish! We'd probably fry up the bacon first so it's nice and crispy yum.
Also, if you love onion, fry up some shallots or just regular onion at the same time. Talk about tasty!
Ok, enough is enough. Go make these easy gluten free vegetable fritters. Then go to delish town and then report back.
Always merrymaking,
Emma + Carla
P.s the recipe will also be on the Get Merry recipe app. Get 300 recipes on your phone. How good! Read more about the app over HERE!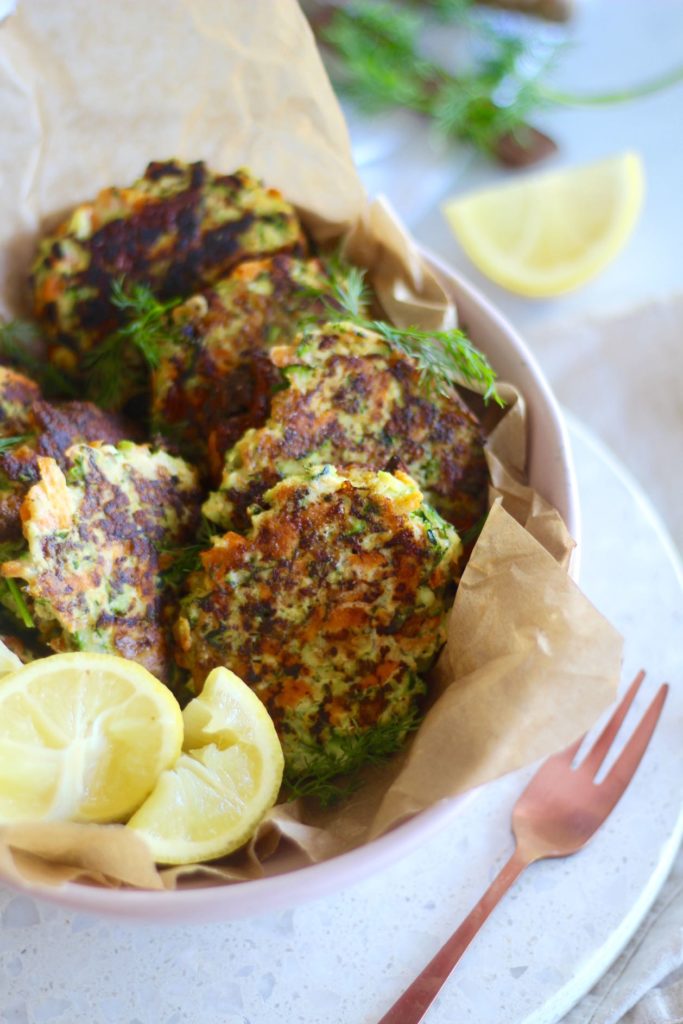 Vegetable fritters
2017-11-27 04:56:54
Serves 2
STUFF YOU NEED
3 eggs whisked
2 carrots grated
1 broccoli head grated
1 zucchini grated
1 cup grated parmesan cheese
2 tbs. dill chopped
salt and pepper
butter or coconut oil for the pan
NOW WHAT
Once you've grated the broccoli and zucchini, place into a large bowl and use a tea towel to soak up excess liquid. It should make about 3 full cups of grated veggies all up.
Add all the other fritter ingredients in to the bowl with the grated veggies and mix super well.
Heat a little butter or coconut oil in a medium-high fry pan.
Place spoonfuls of mixture into the pan, flatten and cook for about 4 minutes on each side or until golden brown.
Keep on a plate with foil to keep warm while you cook the rest.
MERRYMAKER TIP
Serve with fresh lemon and avocado. Yes!
Merrymaker Sisters | MerryBody Online Studio: Unlimited Yoga, Pilates and Meditation https://themerrymakersisters.com/