Ok! Who is sick of the same ole same ole brekky? *all hands up* it's time to jazz things up and we think this epic fruit platter with healthy chocolate fondue is the BEST. BREKKY. EVER. So good that it can double as an epic (easy) dessert.
In fact, we reckon this would make the PERFECT Valentine's Day dessert. You can make it together… then feed it to each other. OR you can just make it for yourself and feed it to yourself because #selflove is more important anyway!
The best part about this recipe is that it takes 10 minutes to make… and yes… cute fruit shapes are compulsory!
Ok! You have dessert sorted… now go and check out our step-by-step to create the most amazing Valentine's Day dinner for your favourite person (and yes, that can be YOU!).
Always merrymaking,
Emma + Carla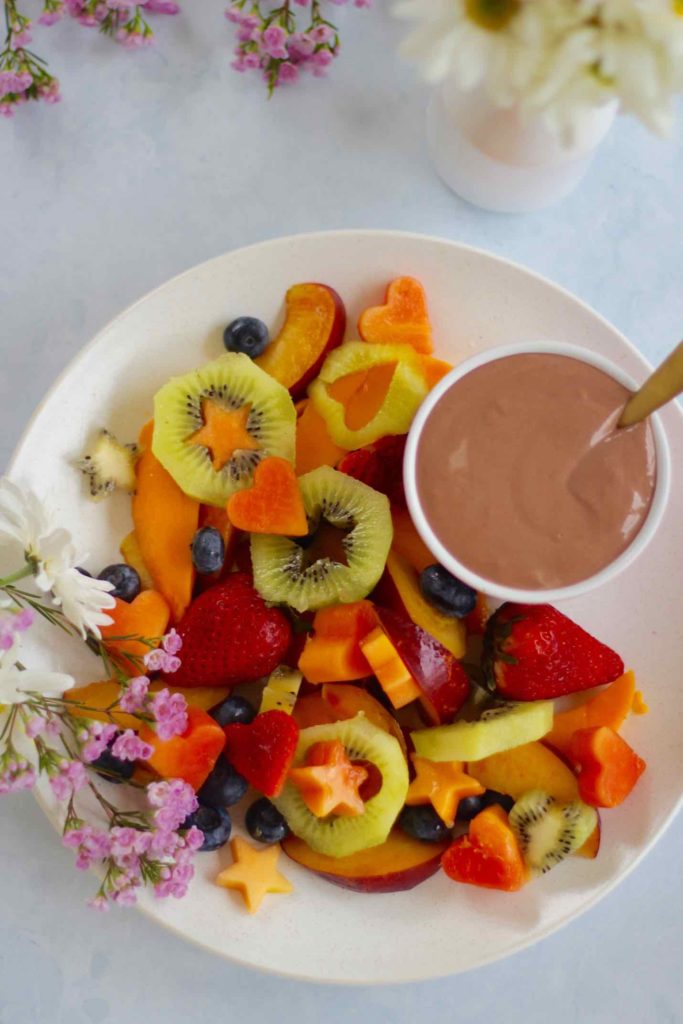 Epic fruit platter with healthy chocolate fondue
2017-01-10 05:25:37
Serves 2
STUFF YOU NEED
2 serves of seasonal fruit chopped cute
FOR THE CHOCOLATE FONDUE
1⁄2 cup coconut milk (carton)
1⁄4 cup raw cashews
3 tbs. raw cacao powder
1 tsp. honey or rice malt syrup
1 tsp 100% vanilla extract
NOW WHAT
Cut up your fruit cute, we even used mini cookie cutters because SAH cute.
For the choccy fondue yumness, whiz everything in your blender until super smooth.
Dip fruit into the choccy yumness and eat it all up!
MERRYMAKER TIP
This would be the cutest date night dessert!
Merrymaker Sisters | MerryBody Online Studio: Unlimited Yoga, Pilates and Meditation https://themerrymakersisters.com/