We don't really need to say anything about this paleo nutella mud cake! It's that good! You should definitely make it and pretty please share a photo with us on social media. We'd love to see your merry creations!
We're not gonna lie we had several epic fails when attempting to perfect the paleo mud cake. We tried it with almond meal, coconut flour, more butter/coconut oil, less cacao etc etc. And let's just say we had a couple very dry mud cakes… blurghhhh.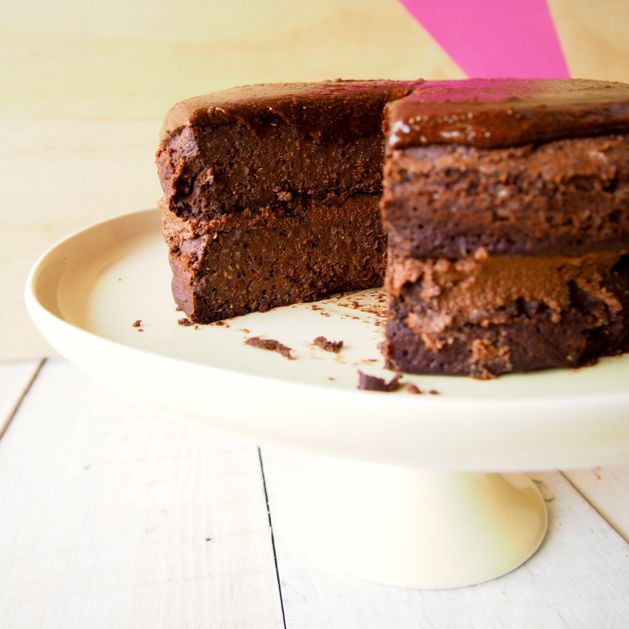 So we welcome quinoa! Not quinoa flour but actual cooked quinoa! If you're thinking hmmmm isn't quinoa a grain?! Well it's a pseudo-grain and actually a seed. Read more about this. But the most important fact of the matter is that it makes for one hell of a delicious paleo nutella mud cake! BOOM! We win!
We actually saw quinoa-cake making the rounds on The Whole Daily and Not Quite Nigella (so thanks you two for the delicious inspo!).
It makes the perfect healthy sugar free birthday cake. This very cake was Carla's Birthday cake! So it just had to be extra special with double layer action. Yes, it takes a little extra time but wowee it's impressive! If you don't wanna do the double layer, halve the cake and frosting ingredients!
We highly recommend serving this cake with coconut ice cream and strawberries. Just to up the yum factor, oh and the pretty factor!
We also highly recommend inviting all your friends over to enjoy the cake with you! Because once you pop… you cannot stop with this cake. Or like instead of eating the whole darn thing, you can freeze slices separately!
Always merrymaking,
Emma + Carla
ps. hope you have the best Birthday Carla! Love you heaps my #sisterbestfriend.
Em xoxo
pps. did you know we're Yoga and Pilates teachers? We have a bunch of classes you can try for FREE! JOIN HERE and get them sent right to your inbox.


Paleo Nutella Mud Cake
2015-09-21 23:19:37
Serves 16
STUFF YOU NEED
1 1/2 cups quinoa (any colour)
3 cups water
1 1/2 cups butter melted (can also use coconut oil!)
1 1/2 cups cup raw cacao powder
2/3 cup coconut milk (canned)
1/2 cup rice malt syrup (or natural sweetener for choice)
8 eggs
2 tsp. apple cider vinegar
2 tsp. 100% vanilla extract
pinch of salt
For the nutella frosting
2 cups roasted hazelnuts
1/2 cup coconut oil
3 tbs. raw cacao powder
2 tbs. butter or tahini
1 tbs. natural sweetener of choice
1 tsp. 100% vanilla extract
Pinch of salt
NOW WHAT
Preheat oven to 170 °C (340°F) and line a 2 x 20 cm (8 inch) spring form cake tins with baking paper.
Bring quinoa and water to boil in a saucepan.
Reduce heat to low, cover and simmer until most of the liquid has been absorbed.
It should take about 20 minutes.
Rinse and allow to cool (you can make this the day before!).
In a blender or food processor, whiz the eggs, coconut milk and vanilla.
Add the quinoa and butter and mix on medium speed for about 2 minutes.
Finally, add the cacao, rice malt syrup, salt, and apple cider vinegar, mix on super low speed until just combined. The batter is quite runny!
Evenly divide the cake batter in to the 2 prepared cake tins and place into the oven for 30 minutes.
Allow to cool, turn out, then ice! Yum!
For the frosting, place all the ingredients, into a blender or food processor and whiz on medium until smooth and creamy.
Spread half the icing evenly on top of 1cake. Place another cake on top, then use the rest of the icing on top of the second cake!
Enjoy! Store this cake in the fridge, share with friends, or freeze individual slices for later!
Notes
Merrymaker tip...
Make the quinoa the day before so you don't have to wait for it to cool down! 🙂 Oh, you can also make the cake the day before you ice it... that way you don't have to wait for that to cool either! #winning
Merrymaker Sisters | MerryBody Online Studio: Unlimited Yoga, Pilates and Meditation https://themerrymakersisters.com/