It's no lie that we love cake. We eat it for breakfast, lunch, dinner, snack, dessert, whenever we feel like it really. And don't worry… we still get all our vegetables in!
We just really really love cake. We love making EPIC cakes… cakes that impress the socks off of our friends (and mum and dad!). Some people think that our book Make It Merry is only full of cake recipes… that's not true… but maybe we should just make a book about cakes?
The best thing? It's an EASY RAW CAKE! Honestly. It looks epic and the recipe looks long but ANYONE can make this.
Back to the impressing socks off people thing. Layered cakes will do that. Especially when it's layers of chocolate, caramel and crunchy bitty goodness!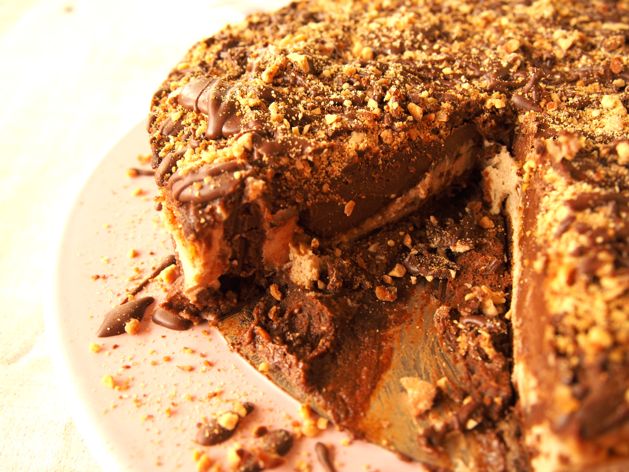 But we did ask for feedback from 5 of our friends who all agreed that yes… we can call this cake Paleo De-SNICKER-licious Cake as it does resemble a snicker bar… constructed into a cake.
SO! Have we tempted you enough with the droolworthy pics? Now it's your turn to get your de-snicker-licious on! Yay for easy raw cakes that are epicly beautiful and tasty!
Always merrymaking,
Emma + Carla
Oh! And if you love this recipe be sure to checkout our FREE eCourse! It's all about finding the right diet for you! Because we know we are all different and there is no one size fits all when it comes to eating styles. The stuff we talk about in this course is what helps us on a day to day basis in figuring out what foods make us thrive!
Are you worried about fructose levels?
We have a whole range of low fructose and NO sweetener recipes! This caramel slice recipe is our favourite.