If you've ever been to Greece you've definitely had a gyros wrap. We remember when we went back in 2011, they were like 2 euro, and they also stuffed them full of hot chips! Best thing ever after exploring the islands. Ahhh we want to go back! Soon, hopefully! In the meantime, we'll enjoy this Slow Cooked Pork Gyros With Chippies recipe.
Here's a pic of one the Gyros from our trip. This was before we even started eating gluten-free! Glad to say, if we could go back to Greece tomorrow we would definitely eat this again and not be stressed about the gluten! We'd also eat the spanakopita, ohhhh and the sweets, all of it!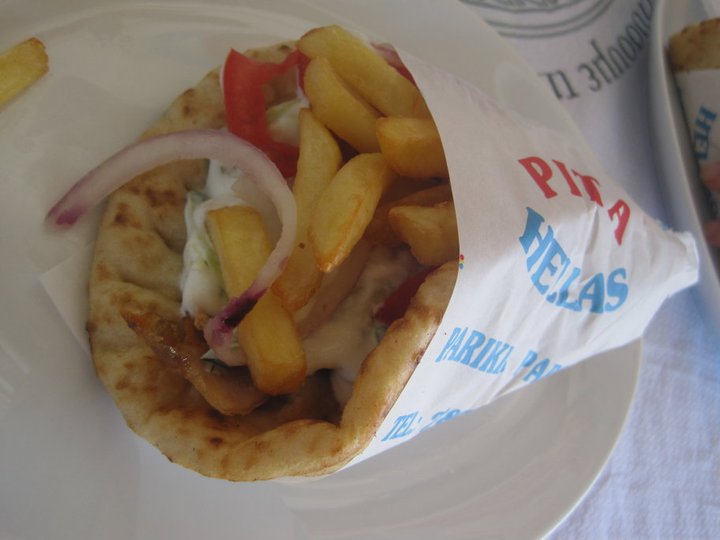 This recipe doesn't include the pita wraps but feel free to add them!
Also, like normal slow cooker recipes, there is the option to pre-cook the pork. Sear the edges and give it more flavour… we are just lazy and hate extra washing up so we skip that part. Probably a bad idea. but it still tastes great! Again, feel free to add that step in.
Here are a few more pics from our trip. We spent 2 nights in Athens and then did a few of the Islands, Paros, Mykonos and Santorini. When we do go back we really want to go to the Island of Karpathos, where our Dad's side of the family is from.
The day we got to Athens, there was a taxi strike… somehow we got on the right train from the airport but had no idea when to get off (the signs were all in Greek!) so again, we just guessed and hopped off at a station we thought might be close to the hotel.
We were walking around Athens with our massive backpacks, it was the middle of Summer so hot, it was just before midnight and we were completely lost. We remember feeling so exhausted and scared… we didn't have connected phones at that stage either. We saw the hotel across a highway and there were 2 options, 1: go down under this dark underpass or 2: keep walking and figure out how we can cross the road. We chose option 2 and it was lucky we did as when we finally arrived at the hotel, the receptionist told us it was a really dangerous area.
Also, before we had that conversation… Emma went to take her massive backpack off and completely stacked it on the ground of the foyer. Actually hilarious… and even funnier because we were staying in the 5 Star Intercontinental Hotel (on staff rates as we used to work with the IHG group). Oh my.
And here's a photo from Mykonos, so pretty! Ahhh we really did have a great time! Carla was 21 and I was 23. Crazy to think just one year later we'd begin the creation of our business and this Merrymaking thing.
Be sure to check out the Slow Cooked Pork Gyros With Chips recipe below and if you make it let us know!
Always merrymaking,
Emma + Carla
Slow Cooked Pork Gyros With Chips
STUFF YOU NEED
For the pork
1

kg (2 lbs.)

pork loin/roast/ tenderloins

2

garlic cloves crushed

1⁄2

cup

water or stock

1/4

cup

red wine or water

2

tsp.

apple cider vinegar

1

tsp.

oregano

1

tsp.

thyme

1

tsp.

cumin

1

tsp.

paprika

salt and pepper
For the chips
750

g (1 1⁄2 lbs.)

sweet potato peeled and chopped

coconut or olive oil

salt and pepper

2

baby cos lettuce
Serve with
2

tomatoes diced

1

red onion diced

1

cucumber diced

1/2

cup

natural or coconut yoghurt 
NOW WHAT
In a slow cooker add the pork, garlic, water, wine, apple cider vinegar, herbs, spices and a little salt and pepper.

Pop the lid on the slow cooker and cook on low for 8 hours or high for about 4 hours.

Once cooked, use 2 forks to shred the meat. Stir really well and allow to cook for an extra 10 minutes.

About 40 minutes before your pork is ready, get onto the sweet potato chips!

Preheat oven to 180°C (350°F) and line 2 baking trays with baking paper.

In a large bowl coat the chopped sweet potato in coconut oil and salt and pepper.

Lay sweet potato onto prepared baking trays, be careful not to overlap too much.

Place into oven for 20 minutes. Check, turn and cook for a further 15 minutes.

While the chips cook, prepare the other salad stuff.

Serve pork inside lettuce leaves, top with tomato, onion, cucumber and a dollop of natural yoghurt and a side of chippies!
MERRYMAKER TIP
If you have some fresh dill growing in your garden, it's the perfect addition!