Stop the freaking internet because we made the best sugar free and gluten free black forest cake you're ever gonna taste!
We're serious. We blew our own taste buds with this epic double decker of goodness!
Black forest is such a grown up cake and we actually didn't really like it as kids. BUT we had sooo m any requests for a healthy black forest cake that we said "stuff it, let's make it and maybe we'll like it!" Turns out… we really really REALLY love black forest cake…
Especially when it's sugar free and gluten free black forest cake! You're welcome!
We vote it's the PERFECT cake for Mother's Day! This year it falls on Sunday, 14 May and if you haven't already got your Mumma bear the best gift ever… we've got you covered!
Mother's Day Cookbook Bonus!
When you get a book (ordered before 8 May 2017), not only will we gift wrap it and confetti bomb it… we'll also add a special Mother's Day quote card (that says 'I won the mum lottery') and a beautiful rose quartz crystal to celebrate the love you have for your mum!
There are a few other cute gift packs too! Check them all out here and order ASAP so you don't miss out! Because there are only 150 bonus packs left! :O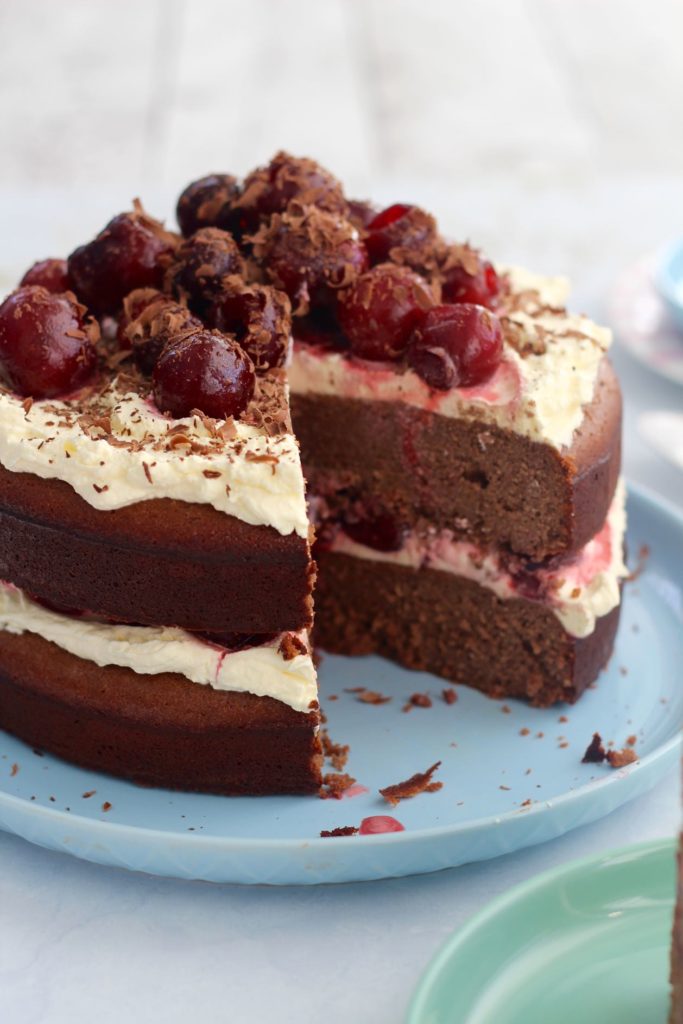 So with the most delish healthy black forest cake ever AND a copy of our Get Merry cookbook, we're pretty sure you're gonna win the best kid award.
If you make this delightful cake of goodness be sure to share a pic on social media! Use #GetMerry so we don't miss it yah!
Always merrymaking,
Emma + Carla
p.s if you skimmed this post (oh you missed out :P) we're adding bonus rose quartz crystals and quote cards to all Mother's Day book orders! Press to order yours! AND you should make this sugar free, gluten free black forest cake STAT.

Gluten Free and Sugar Free Black Forest Cake Recipe
2017-05-01 04:32:08
Serves 20
Stuff you need
4 cups blanched almond meal
1 cup coconut milk (canned)
1/2 cup nut butter or tahini
150 g (5 oz.) coconut oil or butter softened
100 g (3 1/2 oz.) sugar free chocolate melted
3/4 cup rice malt syrup (or honey or maple syrup)
1/2 cup raw cacao powder
8 eggs
1 tsp. baking powder (gluten free)
1 tsp. 100% vanilla extract
FOR THE TOPPINGS
400ml cream
500 g (1 lb.) cherries (fresh or thawed if frozen)
Extra sugar free chocolate grated
NOW WHAT
Preheat oven to 180°C (350°F) and line 2 x 20 cm (8 inch) spring form cake tins with baking paper. Remember you can halve the cake mixture and just make 1 cake.
In a large bowl combine the almond meal, cacao and baking powder.
In a blender or mix master on low speed, whiz the coconut milk, nut butter, coconut oil, rice malt syrup, eggs and vanilla together until smooth.
Pour this into the large bowl with the dry ingredients and gently mix together.
Add the melted chocolate and mix again.
Divide the batter into the lined tins and bake for 30-35 minutes or until lightly brown.
Allow the cake to cool completely before turning out.
For the toppings, whip the cream until nice and fluffy (omg how good is whipped freaking cream?).
Place one cake on a plate, top with half the cream and half the cherries (we halved these cherries to make it a nice flat surface for the next cake!).
Carefully place the other cake on top, squish down a little.
Spread the rest of the cream on top of the second cake, followed by the rest of the cherries and freshly grated choccy!
OMG YUM! Enjoy!
MERRYMAKER TIP
You can halve the cake recipe and just make ONE cake instead! It's a BIG cake! Don't like cream? Leave it off and drizzle with melted chocolate instead. You CAN freeze this cake into separate slices, it's just that the cream won't be that fresh anymore when you defrost.
Merrymaker Sisters | MerryBody Online Studio: Unlimited Yoga, Pilates and Meditation https://themerrymakersisters.com/