Self-love and self-acceptance aren't just buzzwords, they're essential for your well-being and mental health.
But let's be honest, it's not always easy to be your own biggest fan.
If you find yourself consumed by self-criticism, you're not alone—but it's never too late to change that narrative.
Here's where the transformative power of words can come in handy. We've curated a list of 14 quotes that are more than just a string of words. They're invitations for you to step toward a more compassionate, accepting view of yourself.
Take a moment to read, reflect and let these quotes work their magic. They could very well shift the way you feel about yourself, starting today.
14 Quotes That Will Make You Like Yourself More
"We don't have to wait until we are on our deathbed to realize what a waste of our precious lives it is to carry the belief that something is wrong with us." – Tara Brach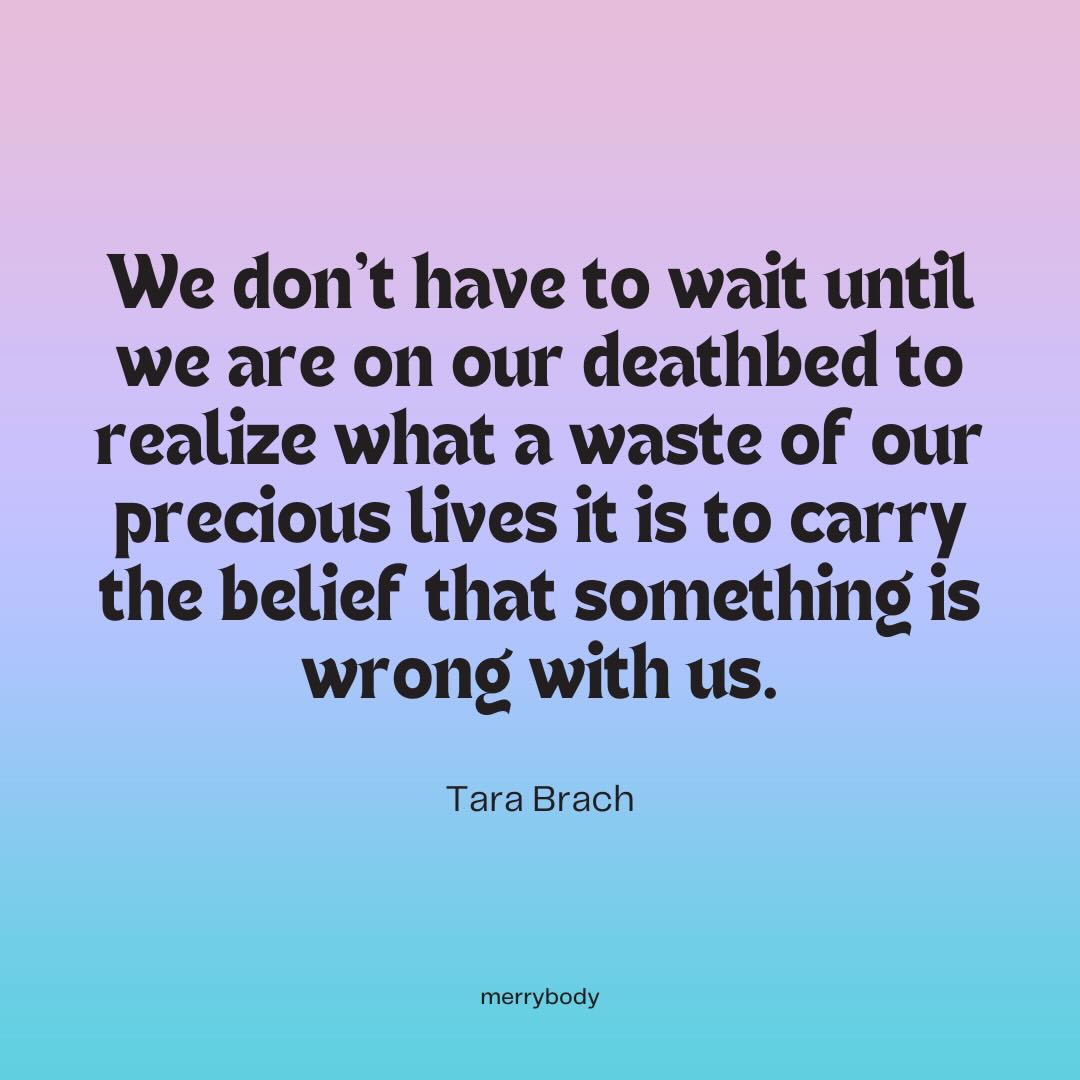 "The more I bathe in the experience of loving and being loved, the more accessible it becomes in daily life." Tara Brach
"Because true belonging only happens when we present our authentic, imperfect selves to the world, our sense of belonging can never be greater than our level of self-acceptance." Brené Brown,
"If your compassion does not include yourself, it is incomplete." Buddha
This one also reminds us of our amazing Yoga History and Philosophy Teacher from our MerryBody Teacher Training. He says…
"When do we show ourselves compassion? ALWAYS!" Andrew Mournehis
"We are each gifted in a unique and important way. It is our privilege and our adventure to discover our own special light." Mary Dunbar
"To be beautiful means to be yourself. You don't need to be accepted by others. You need to accept yourself." Thich Nhat Hanh
"All people deserve your kindness, but none more so than you." Justin Kan
"Love is the great miracle cure. Loving ourselves works miracles in our lives." Louise L. Hay
"When we give ourselves compassion, the tight knot of negative self-judgment starts to dissolve, replaced by a feeling of peaceful, connected acceptance – a sparkling diamond that emerges from the coal." Kristin Neff
"You are imperfect, permanently and inevitably flawed. And you are beautiful." Amy Bloom
"Stop trying to be less of who you are. Let this time in your life cut you open and drain all of the things that are holding you back." Jennifer Elisabeth
"Nothing I accept about myself can be used against me to diminish me." Audre Lorde
Save this page for when you need a boost of feel-good feelings. Sign up HERE for our newsletter if you want more!
And we'll leave you with our MerryBody Mantra… you are amazing, just as you are, right here and right now.
Always merrymaking,
Emma + Carla