Chia Puddings are all kinds of delicious and they certainly are mega popular on social media! For good reason too! They look pretty and are ridiculously good for you! Chia puddings are a great healthy brekky or you can even enjoy this for dessert. Actually… who made the rules? Enjoy these chia puddings any time of the day!
The best thing about chia puddings is that they can be prepared the night before in just a few minutes and the voila – you have a grab n go brekky in the morning!
As you know we steer clear from grains, refined sugar, dairy and gluten! All the recipes below recipes are just full of good stuff. Ingredients to nourish you! Yahoo for that!
1. The first of our chia pudding recipes is our Paleo Berry Chia Pudding.
This recipe features in our Make It Merry cookbook along with 70 other quick, easy and delish recipes to boost your health and happiness!

2. What about this Malted Chocolate Maca Pudding from The Foodie Teen. Just swap the dark chocolate to raw cacao powder!
3. OK this Chia Chai Butternut Squash Pudding has got our attention! From the amazing sister duo Hemsley and Hemsley.
4. Hello delicious Tart Cherry Chia Pudding by Nutrition Stripped. If you're no in to cherries just swap for low fructose raspberries! YUM!
5. And here we have Jamie Oliver's Star Anise Chia Pudding. Sounds gooood!
6. Pistachio Chia Pudding. Seriously YUM! Using pistachio milk… which is AWESOME!
7. Banana creme brulee (using chia seeds!) Ok, we had to share this. Swap the milk for almond or coconut milk and the yoghurt for coconut yoghurt!
8. Carob chia pudding. We love carob and this looks like chocolatey goodness!
9. Chocolate chia pudding… we are getting super chocolatey now!
10. Mint CHOC chia pudding! Swap the yoghurt for coconut cream or yoghurt!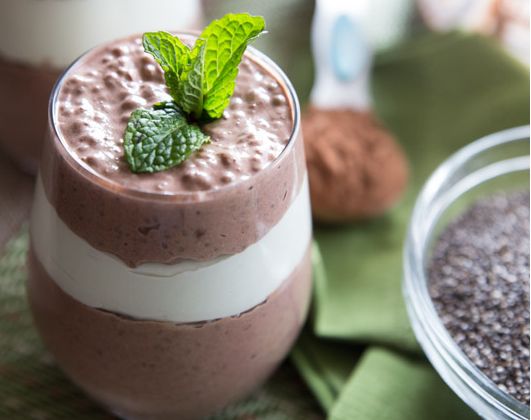 11. Pumpkin pie chia pudding. This looks ridiculously tasty!
12. Strawberries and cream chia pudding!
13. Raspberry and rose water chia pudding with pistachio crumble! Woha!
14. Apple cinnamon chia pudding. We love apple. We love cinnamon! Together = heaven!
15. Vanilla chia pudding. Just swap the yoghurt to coconut milk/yoghurt for 100% dairy free!
16. Raspberry chia pudding. This is SO EASY! 3 ingredients and boom! Chia pudding!
17. Vanilla, honey, avocado chia pudding! Loads of good fats in this baby!
18. Vanilla blueberry chia pudding. Nice, simple, delish!
19 Mocha chia pudding. YUM!
20. Last but not least, this epic blood orange chia pudding! Yay!
What's your favourite chia pudding recipe?! Leave us a comment below… we're going to get creative in the kitchen after drooling over these EPIC healthy dairy free, grain free, gluten free chia puddings! YUM!
Always merrymaking,
Emma + Carla