It is no secret that we are all living very stressful and very fast-paced lives. How many nights in a row do you find yourself eating lunch in front of your laptop while answering emails and thinking about that meeting you have tomorrow? How many times have you had dinner in front of the TV, mindlessly eating without focusing on the food and appreciating it? Or eating, while scrolling Instagram, then TikTok, then back to Instagram? We bet it is too many times to count (don't worry, us too!).
If there is something good that the lockdowns did, it reminded us all how important family is (and this means whatever family is to you). And how small joys in life are what make the difference. For example, a delicious meal with family members and friends. Quality time spent together.
Even the University of Oxford reports that eating with others will most likely lead to you feeling happier and more satisfied with your life! This is a fairly big reason to schedule your next group dinner!
Enjoying a meal with your family and friends is more important than you might think. Here are some of the main benefits of enjoying a meal with your loved ones.
Benefits of Eating With Friends and Family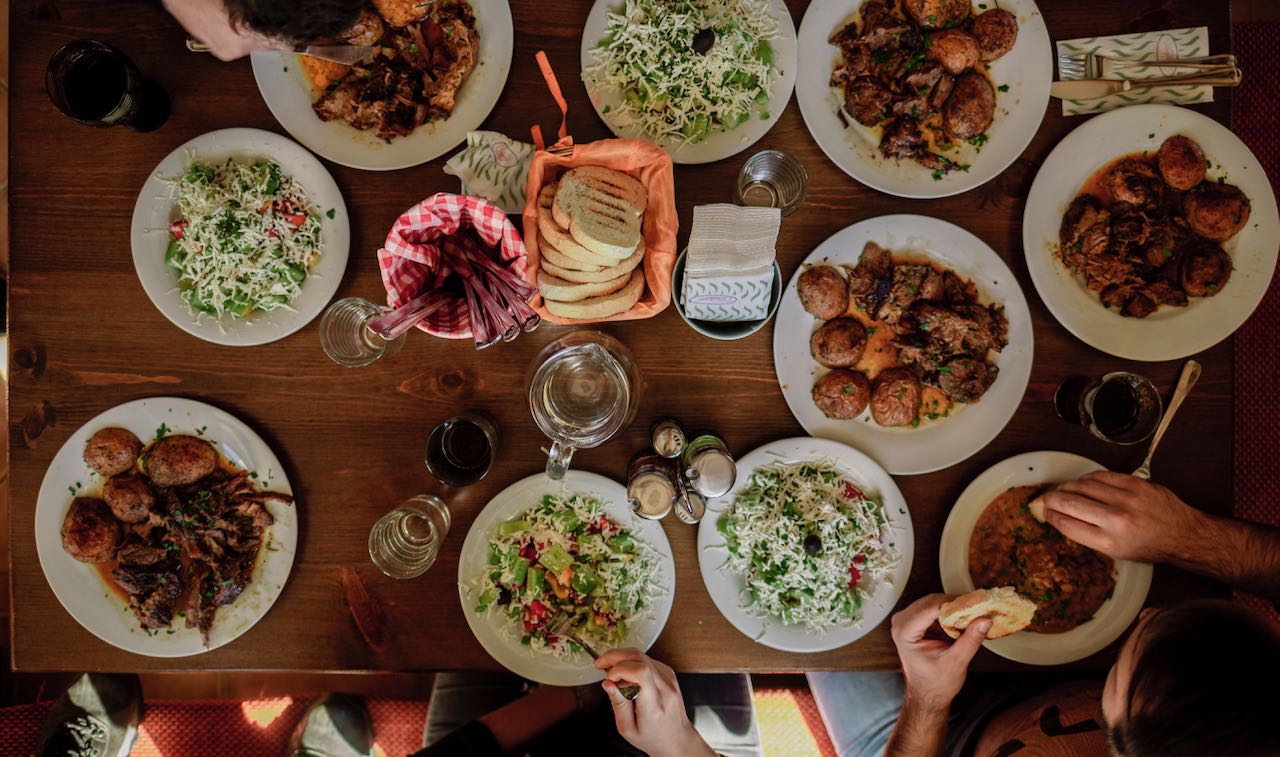 By eating together, you practice gratitude.
While sharing and enjoying a tasty meal with those who are the closest to you, you feel happy and more content. Naturally, you'll feel more gratitude and love during these times.
Enjoying a meal together is the perfect time to bond.
Did you grow up eating meals at the table with your family? We did and we know from experience without a doubt this daily action helped us develop very close relationships with each other and our parents. Carving out this time, even if it's just once a week, will create connection. We know it can be hard, perhaps you live alone, or with a partner and you both have terribly busy schedules or you feel it's an endless struggle to get the kids and parents to eat together. Start with a doable goal.
Eating with friends and family creates better communication.
So often we can go on living with our partners, roommates, kids and other family members without having proper conversations. Eating a meal together, with no technology (this means phones away and TV off) is the perfect scenario to open up the conversation. It allows space to share the ins and outs of the day. To discuss the ups and the downs.
It's a great place to teach kids.
We don't have kids but when we do we know mealtime will also become a perfect place to teach valuable life lessons. As little kids, we remember having to set the table and put our dishes up by the sink. We also remember getting in trouble for leaving our dishes on the table (haha oops). We remember helping to get dinner ready, grating the cheese when we were little, and cooking the whole meal when we were teenagers. This is a place where we learned about manners, to always say please and thank you. We learned about responsibility and teamwork.
Eating together can help you eat healthier.
When you're eating with a group you'll notice you eat a lot slower. You'll talk, and you might even change your eating behaviour (as in, you won't hoover down your meal).
Cooking at home is also a great opportunity to use fresh ingredients and test out new recipes. In this day and age where it's easier than ever to order take away, to microwave ready-made food, a group dinner is a great place to cook a home made meal. We know some takeaways are healthy, and ready-made meals too for that matter. However, we do believe there is something special about cooking something from scratch.
Experience something new together.
Whether you are cooking with a new recipe or you're trying a new restaurant. Experiencing something new as a group is beneficial. Sometimes we can get so distracted by the to-dos of life that we forget to experience something new. Although it's a rather simple 'new thing' to try (it's not bungee jumping that's for sure!) this action apparently leads to life longevity and better health and well-being. Time to book a reservation at that new restaurant!
Eat together, live longer!
To continue on the subject of life longevity. Let's look at the eating habits of those in the Blue Zones. People in the Blue Zone regions don't eat alone, they value family and friend connections and they are very social. Life is slower with less stress. When you read about the Blue Zones it's easy to see that the 'hustle life' and busyness is not great for our health, overall life satisfaction and health!
How to eat together more regularly.
We'll keep these ideas short and simple so you have more time to plan your meal!
Plan ahead, everyone is busy, so if you need to book your group meal a month ahead that is ok! If it needs to be breakfast that's ok!
Book in a consistent time. Whether it's daily, weekly or monthly.
No distractions at the table. Make a point of turning the TV off and ensure phones are away.
If you're not a fan of cooking big group dinners, do a potluck where everyone brings a plate. Or choose recipes from the same recipe book, this is fun and the food is well-matched.
Make it an enjoyable experience in the lead-up, during and after. If you organise the dinner and you feel angry with all the washing up this is no good! Either ensure everyone helps with the wash-up or cook a meal with minimal washing-up!
Alright, it's time to plan your next meal together with family and friends! We're pretty lucky, we have Damiano who in fact loves to cook for others and makes the most delicious pasta and pizza! We vote you make pasta! How about this recipe?
Always merrymaking
Emma + Carla
Photo by Stefan Vladimirov on Unsplash