Oh yes, Pilates exercises most certainly will strengthen your back muscles. Pilates will in fact, help you gain whole body muscle strength, create a deeper sense of body awareness and prevent future potential injuries, especially those that come with ageing.
Why is it important that we focus on our backs? Well, apparently 90% of people will experience at least one burst of terrible back pain in their lives.
Ahhh… pretty sure we've both already experienced this 10 times over! In fact, back pain is one of the things that led us both to Pilates.
Pilates for Back Pain
Often the pain we feel in our backs does not actually come from the back directly. It could be from how you're walking, it could be from your wonky hips or pelvic tilt. It could be from that tight hamstring or how you stand with your knees locked!
This is why we love Pilates, it's a movement that creates mind body connection and awareness of imbalances. It builds strength and flexibility over your entire body in a balanced way.
Practising Pilates is often recommended to those suffering from back pain, including that very common lower back pain. Depending on the severity of your pain it's always important to speak with an expert before beginning your practice.
Pilates strengthens the core, and yes, a 6 pack may look great but one of the most important reasons to work your core muscles is to support the spine.
Pilates Will Improve Your Posture
One of the main benefits of Pilates is that it improves posture; we have talked about this point many times before.
Pilates trains your body to use the deeper muscles, not just the surface level aesthetic muscles.
During a class, you'll work the deep abdominal muscles, back and pelvic floor muscles, together these muscles support your posture. In turn, this will allow the muscles in your shoulders, neck, and back to relax, which will lead to you easily being able to hold the correct posture.
Pilates Exercises For Your Back
Pelvic Curl
An exercise to strengthen your abdominals, hamstrings (back of the legs) and gluteus maximus (your booty). This move is slow. Be focused and present.
Starting position

is laying down on y

our back with your knees bent and feet flat on your mat, hip-width apart. With your arms lying flat on the floor by your sides, palms face down, you should be able to scrape your fingertips to your heels, this means your feet placement is correct. Relax your neck, shoulders and lower back.

Inhale through the nose to prepare, and exhale through the mouth while you slowly lift the booty,

tilting your pelvis up t

oward the sky

. Continue to lift the spine off the mat. Slow is the keyword, imagine peeling one vertebra at a time, bone by bone.

Inhale and hold at the top. You'll feel a great stretch down the front of your hips. Your booty will be squeezing to hold you strong.

Exhale to slowly lower the body down. The same way as you rolled up, down bone by bone, one vertebra at a time.

Repeat the sequence 5 – 10 times. Remember, go slow.
Booty Lifts
Similar to the previous move. This move will strengthen your booty, hamstrings, core and general stability.
The same set up as above move.

Inhale to prepare and instead of curling, as you exhale, lift hips up and keep the abs switched on, drawing rib to hip connection. No articulation of the spine here.

Repeat 10 times.

Next round, hold the booty high and do 20 tiny pulses at the top.

Hello booty fire!
Back Extensions
This move feels so good, with a focus on both strengthening and stretching the upper back. You'll also feel your booty work.
Lie on your stomach with your hands in front of you stacked, forehead resting on back of hands, core engaged, feet mat distance apart pressing down into the ground.

Inhale to prepare, and exhale to lift the chest and arms off the mat. While you feel your chest lift, squeeze your shoulder blades together.

Continue on, inhale to lower and exhale to lift, repeat 10 times.

If you feel lower back pain, don't lift as high and bring a slight tucking of the pelvic.
Ready to try out this move now? Try out this online 10 minute Pilates class, it's designed to work your amazing back and promote better posture.
Toe Taps
We love this move so much. Builds core strength and stability.
Lay on your back with your knees bent, legs lifted, shins parallel to earth, knees above the hips, relaxed arms at the sides with the palms down.

Neutral spine

or imprinted spine.

Inhale to lower the right leg, hinging from the hips, tap the toes to the mat. Exhale to return.

Repeat the move 10 times with the same leg. Then swap legs. You can even try alternating for a further 10 toe taps.
Try this move out right now with this 10 minute beginner Pilates class. Oh, it's a real lower ab burner.
All 4s Table Top with Arm and Leg Extension
This is really one of our favourite moves, as it works the whole body, not just your back. Focus on your control and precision of the move.
Starting on your hands and knees, wrists under shoulders, knees under hips, micro bend in elbows, neck long and core strong with rib to hip connection.

Inhale to prepare and as you exhale extend the left arm and right leg out to hip/shoulder height. Hold for 5 inhales/exhales.

If you feel up to it, add a tap and lift. Inhale to lower both the arm and leg down to the earth and exhale to lift. Repeat 10 times. Pulse high for 10 counts.

Swap to the other side!

Focus on the arm and leg length, rather than the height.
And now, you and your back feel amazing!
If you're after more amazing Pilates workouts in your life, sign up here and try one of our Pilates classes from the MerryBody App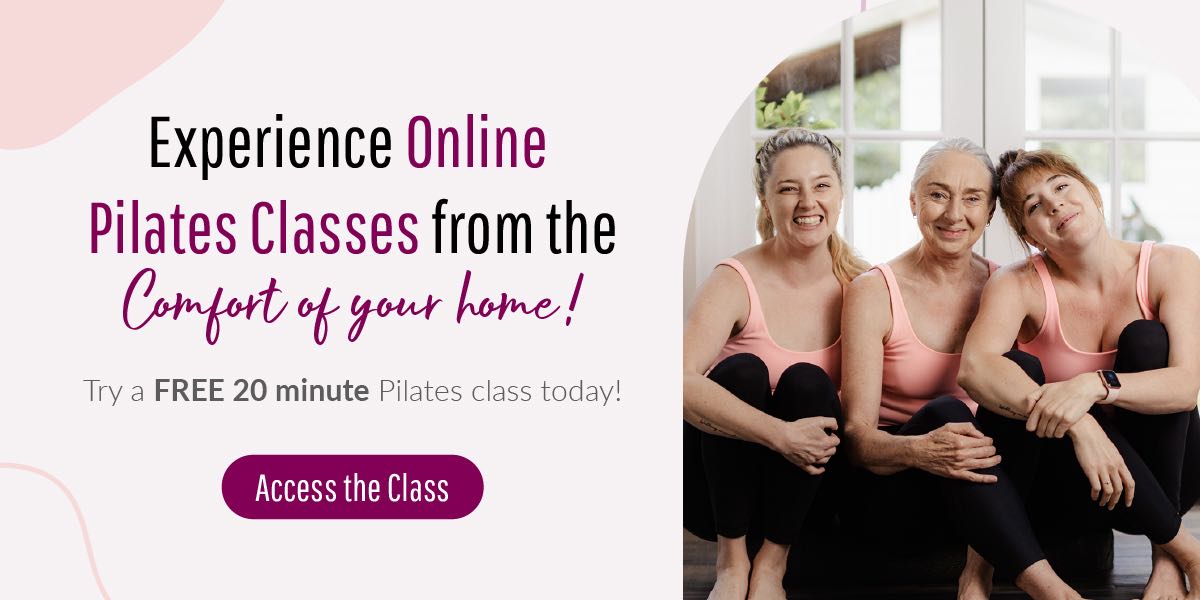 Inside the app you have access to hundreds of Pilates, Yoga and Meditation classes to stream and download for offline use. Inside our community group, we are available to help with form and technique questions, plus the other members are there to support and cheer you on.
The real difference with our workouts is that we don't obsess about weight loss. We don't count calories, we don't share before and after pictures. It's more about helping you welcome in a consistent exercise practice and helping you to feel good.
Always merrymaking,
Emma + Carla
Ps. Take a read of what some of our amazing members said about their Yoga and Pilates workouts.
Here's what Bec had to say about MerryBody.
I first found the Merry Body App through an Instagram account I have followed for years. I was instantly intrigued as I have never come across an exercise program before that was so positive for my mental health. I guess I had such a love hate relationship with exercise because I was always trying to make my body smaller.
I have consistently shown up on my mat since November last year; there is always a class I can fit into my schedule, even if it's a 10 minute session.
I don't know if my weight has changed, what I do know is that I'm in a much healthier relationship with my body; I exercise because it feels good and I feel amazing afterwards! And as Emma and Carla tell me every day: "always remember you are amazing, right here, right now".
Read about Stephanie's experience.
This App provides more than just exercise. It provides the ultimate mind-body connection and rejuvenation.
The connection you feel with Em and Carla provides the best experience whether you are doing Pilates, yoga, fusion or meditation. The challenges are epic and so well designed that you feel that they have you every step of the way – through encouragement, support or simply motivation.
To simply be reminded we are all amazing just as we are right here right now is so important as we travel through our busy crazy lives. This App and the MerryBody program has strengthened my love of Pilates and Yoga.
Sign up to your 7 Day Trial now!
Then choose a class and get started right away! You can use the handy filter to search for classes specifically designed to strengthen your back. Why not follow it up with one of our deep breathing meditations? Ahhh, now that will get you feeling amazing!