Oh em JEE… seriously it is COLD in Canberra. It was -6 degrees the other morning… MINUS. SIX. DEGREES!
The only things that gets us through winter are cosy, cute pyjamas, roast pumpkin, yoga and healthy hot drinks… PLUS we're keeping ourselves super busy with our book launch and new products coming soon… eek… we are soooo excited to share more with you! <3
[Tweet "Healthy Hot Drinks To Warm Your Winter! Yum!"]
Healthy hot chocolate and almond spiced milk to be precise as well as our hot almond and cinnamon milk. Talk about yum. ESPECIALLY when you have a healthy cookie to dunk in it… internal warming comfort in a mug.
We're also DIGGING chai at the moment… we will share a recipe for that soon!
paleo hot chocolate
2015-05-30 08:37:45
Serves 1
Stuff you need
1/2 cup coconut milk
1/2 cup almond milk
1 tbs. raw cacao powder
1 tsp. 100% vanilla extract
1 tsp. raw honey (optional)
1 tsp. hot water
Now what
In a small bowl combine the raw cacao and water, set aside.
In a saucepan on medium heat, combine the coconut milk, almond milk, vanilla, honey, raw cacao mix and stir well.
Continue to heat (don't let it boil) for a couple more minutes.
Merrymaker Sisters | MerryBody Online Studio: Unlimited Yoga, Pilates and Meditation https://themerrymakersisters.com/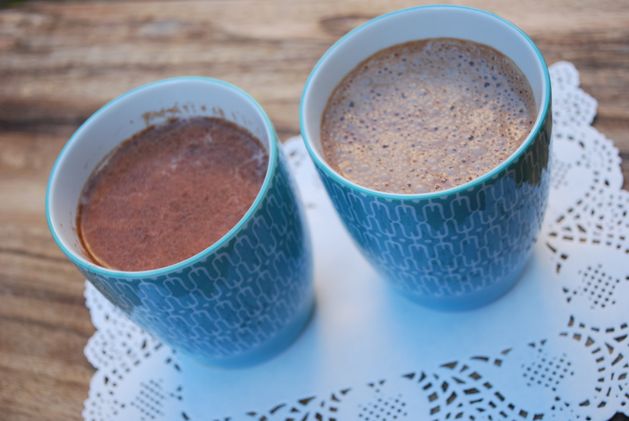 We LOVE these healthy hot drink recipes because they are ridiculously easy. If you're going sweetener free like us, just leave out the raw honey – you don't REALLY need it BUT hey, raw honey does have anti-bacterial benefits… so on that note: you do what floats your boat and what makes your taste buds say thank you!
Always merrymaking,
Emma + Carla

healthy hot almond spiced milk
2015-05-30 08:41:26
Serves 1
Stuff you need
1 cup almond milk
1 tsp. raw honey (optional)
1 tsp. 100% vanilla extract
1 tsp. cinnamon
1/2 tsp. nutmeg
Now what
Heat the almond milk in a saucepan on medium heat.
Add the honey, vanilla and spices, continue to stir for a couple of minutes (don't let it boil though!).
Merrymaker Sisters | MerryBody Online Studio: Unlimited Yoga, Pilates and Meditation https://themerrymakersisters.com/