Our mum, Wendy, is 63 years old and has been doing MerryBody for over 4 years now. She does it every single day, so when we got the question: is Pilates hard emailed to us, we thought who better to answer than Mum?! So here are Mum's thoughts and we have a feeling it might inspire you to jump on your mat!
Is Pilates hard?
Well the answer to that would be a big yes but also a big no!
Pilates classes really do ebb and flow with harder parts for sure and then easier sections as well. It also depends on your own individual strengths and weaknesses. The most important thing is that Pilates has so much to offer when it comes to a movement practice.
I would say before I started Pilates exercises I wasn't sure if it was going to be hard or not but now that I have a consistent Pilates practice I can tell you this form of exercise works the body and mind in all types of amazing ways.
Pilates works all the muscles, the entire body. Even those little stabilising muscles that you will discover after just a few Pilates classes. I certainly found a few that I didn't know about!
But in saying that the exercises are low impact with no jarring of the body and won't stress your joints so everyone is able to follow this kind of exercise program.
It is all about core strength and controlling your movements. You get to work your upper body and your lower body.
Pilates is a full body form of exercise.
After class you even feel taller. This is because in a common Pilates class you work the muscles that help to create better posture.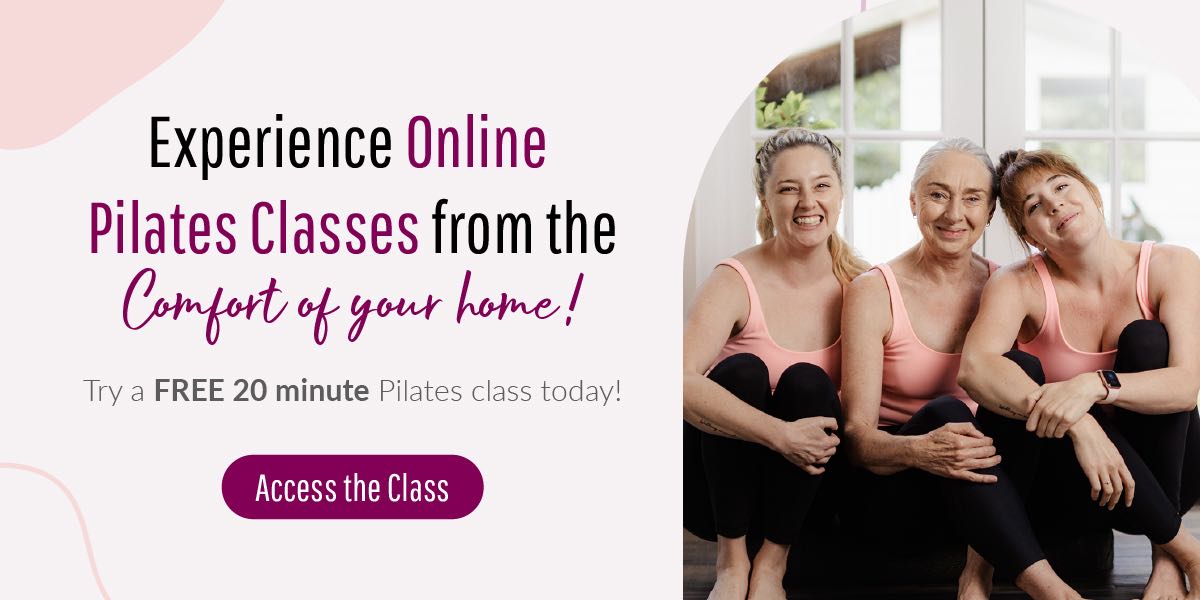 You may or may not know of Joseph Pilates and how the whole Pilates story came about but if you don't, you can read this article on the history of Pilates and when and how it was invented (it's actually really fascinating!). He was quite amazing.
There are many types of Pilates classes available, but the type I do, which are in MerryBody Online Studio you will focus mainly on Pilates mat classes as well as barre and some fabulous fusion classes with Pilates and Yoga.
You focus on the mind body connection. You don't need any props. All you need is your amazing body. I have recently brought in some 0.5 and 1kg weights for some of my classes but you don't need or have to have them. It is just as effective using your own body weight.
You get to decide just how hard you want to make your class.
It really is fun to see how you progress with regular practice. I can feel myself getting stronger and more flexible and more able to take the progressive options. It's empowering to challenge myself, even when some days I need to pull back to the less challenging option.
If you have the right Pilates instructor, be it in a studio or online, Pilates can be modified to suit any fitness level. So it can be as hard or as easy as you wish.
This is made even more possible in MerryBody as Emma, our Pilates instructor has Carla showing all the options so we are always being encouraged to try the different levels at the same time as being made to feel comfortable with whatever choice we make.
Since beginning my MerryBody venture I feel more confident in myself. I feel stronger and more flexible. I no longer have arthritis pain which would have to be the biggest plus ever (there was a time I struggled to crawl out of bed in the morning). I sleep better. I am aware of standing taller and not slouching. I breathe better and so much calmer.
Here's a video we made with Mum in 2021. Love our Mumma!
Yes, Pilates can be hard but the decision to do it is so easy.
MerryBody has unlimited classes, such a vast variety and really, all I can say, is give it a go! I won't be surprised if you fall in love with Pilates… because I certainly have!
Wendy
Ps. It's us again, Emma and Carla! Recently Mum featured in a few MerryBody Classes. Here is a pic of Carla and Mum getting ready. It really was such a fun day!