Pilates is a low-impact exercise that aims to strengthen muscles and improve posture and flexibility. It gained worldwide exposure during the 20th century and is practised by millions worldwide today!
But who invented Pilates?
Pilates is a mind and body exercise developed by German born Joseph Pilates.
Born on the 9th of December in 1883 (the same as Emma's Birthday, but in 1987!), he constantly fought against asthma, rickets, and rheumatic fever.
He managed to overcome these health issues and went on to become a gymnast, diver and skier. It seemed like he was trying to prove to someone, or maybe just himself, that he was more than capable of getting through his health troubles.
He then lived in England working as a circus performer, a boxer, and even as a self-defence instructor! But all these were short lived as he was imprisoned along with other German citizens in Lancaster Castle as World War 1 began.
It was here in the internment camp, where he taught the inmates how to overcome mind and body ailments.
He studied yoga, martial arts and the movements of animals to incorporate into the exercises of the inmates. He used these exercises to keep the inmates in shape in addition to his own personal fitness regime.
Pilates came to believe that the roots of ill health were from the 'modern life-style'. These being bad posture and not breathing properly. Imagine if he could see the world now! Where we are sitting more and more. Seems like the perfect time to begin your consistent Pilates practice!
After the war he returned to Germany and it was here where he refined his physical conditioning exercises. Joseph Pilates called it Contrology and then later the method became known as Pilates.
In about 1925 he immigrated to the US, he actually met his future wife on the boat trip over! With his wife Clara, they developed and taught the Contrology method in their 'body-conditioning gym' located in New York City, which became the first Pilates Studio.
This new Pilates method became an instant hit in the United States. The Studio was in close vicinity to the New York School of Ballet and it became very popular amongst dance legends of the time, like Ted Shawn and Martha Graham. Even the Ballet master and famous choreographer, George Balanchine, was a big fan of the exercise style Pilates taught.
The physical trainer was becoming more and more renowned in NYC. He even went on to write about his method and published his book, Return to Life through Contrology, in 1945.
The Pilates method has six core foundations, when beginning this way of movement it's quite useful to read about them. Familiarise yourself with the terms, as many current instructors will refer to them.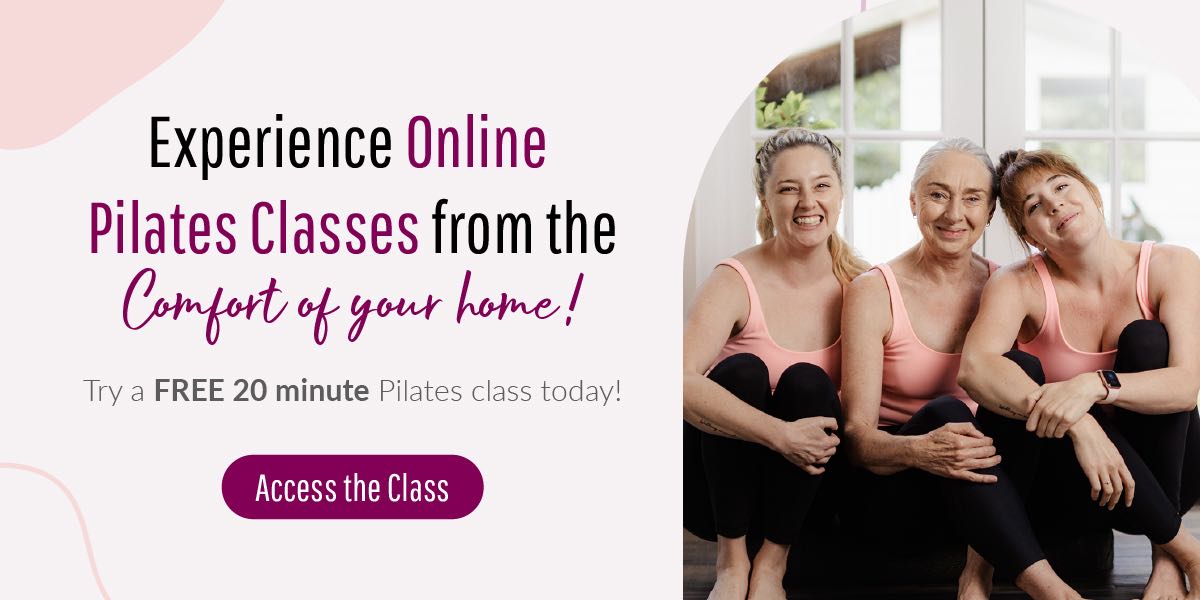 What are the 6 Foundations of Pilates?
Concentration.
The principle of concentration becomes the focal point when you use your body to ensure smooth movements. Significantly difficult to master, this principle brings to light that the way you perform the exercises becomes more important than the exercises themselves.
Control.
Essentially, the practice of Pilates is asserting control over your whole body. Each move is taken with a sense of control. Instead of flinging arms and legs all over the place, you take a little more care. We'd prefer you take more control with your leg lifts instead of making them higher and faster.

Centre.
In the practice we see the centre as the starting point. Movement begins here at the centre, referred to as the 'Powerhouse Muscles' which encompass your abs, upper and lower back, hips, butt, and inner thighs.
Flow.
Pilates exercises are supposed to flow from one to another to help you build up strength and stamina.
Precision.
This relates back to control as well. It's not about speed, it's not about quantity. It is the attempt at precision of the movement.
Breathing.
In Pilates, you breathe with the movement. Within a move there is usually a stage where you exert more effort than other parts and this is where you exhale with a little bit of force. Then you inhale at the other stage. Synchronising your breath and movement is one of the key focal points in Pilates. This is why, within our classes we constantly remind you to breathe!
For us we add many other foundations to our MerryBody Pilates classes, like joy, self-acceptance and we even add cardio! You can read more about our style of teaching over here.
Pilates has evolved over the years. The classical instructor would most likely not call our classes 'Pilates'. The Pilates Elders would most likely just shake their heads at us. And yes before we continue, this is what the original Pilates students who went on to become Instructors are referred to!
In our eyes, this kind of strictness actually turns us off the movement, and we can easily understand why the Pilates Method has a bit of a snob vibe about it. We appreciate the control and rules, but sometimes rules are meant to be broken.
He continued to teach his method right up into his later years.
Joseph Pilates died in New York City in 1967. He was 83 years and died of emphysema.
We're extremely grateful for the legacy Joseph Pilates worked hard to create for us all. If you're ready to improve your health and well-being through physical fitness if you're feeling inspired to try out a Pilates class, we have the answer!
Sign up to your FREE 7-day experience of MerryBody and get unlimited access to our Yoga, Pilates and Meditation Online classes for complete mind and body health. Pilates has been a transformative practice for our minds and bodies and it's our absolute honour to share it with you.
Always merrymaking,
Emma + Carla
Ps. in the mood to try out a quick Pilates class right now? Checkout this quick class designed to work your amazing booty and legs!
Feature image via Very Well Fit.