It went down like this: "We need to make more recipes using cauliflower."
"Yeah, cauliflower rocks. SO versatile and it tastes good too."
"Well we already have this fried rice and that pita bread thing… what abouuuuut."
Boom! Enter our Paleo Creamy Chicken and Mushroom Risotto… using caulirice! That's just grated/food processed cauliflower to resemble a rice like texture. In all honestly, caulirice is better than normal rice not just because it's not a grain but it's actually way easier and much quicker to make than regular ole gloopy rice! Yay for that!
Not only do we love this Paleo Creamy Chicken and Mushroom Risotto on a cold winter night (creamy and tasty = very comforting) but it also makes the BEST leftovers, cold or reheated! Take your pick!
The reason THIS recipe tastes so good is because we use ghee in it! OH MY GHEE! Which is clarified butter! What the? It just means that the milk solids from regular butter caramelise and are eventually removed. This is AWESOME as it gets this amazing caramelly flavour AND doesn't contain lactose which is good for us because we (especially Carla) can't handle too much dairy and we really really just like tasty food. Our best friends from Primal Collective (they make the best ghee) tell us that:
"Ghee is a superfood that has been used for over 5000 years as a staple of Indian cuisine and medicine. When comparing Ghee and Butter, ghee has 25% more medium- and short-chained fats than butter, and it is better for us, as the chances of them causing cardiovascular diseases are nil."
So it tastes good AND it's better for us. #winning gotta love that!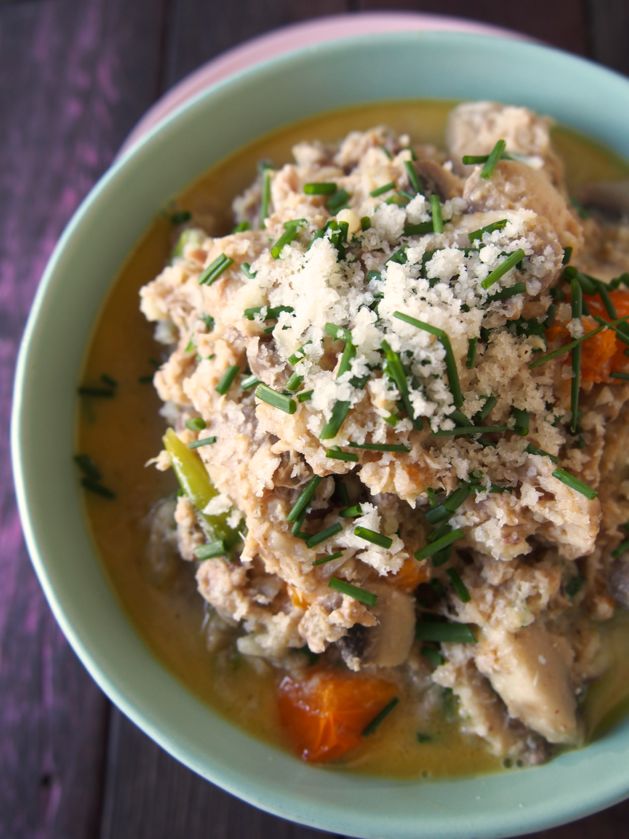 Do you LOVE cauliflower too? What else should we make with it? Leave us a comment below!
Always merrymaking,
Emma + Carla

paleo creamy chicken and mushroom risotto
2015-06-03 06:20:12
Serves 4
Stuff you need
500g (1 lbs.) chicken cubed
500g (1 lbs.) button mushrooms sliced
5 shallots (scallions) chopped
1 cauliflower, cut in to florets
1 punnet cherry tomatoes halved
1 bunch chives chopped (keep some to garnish!)
1 cup chicken stock (or chicken bone broth, recipe for broth is above!)
1 cup coconut milk
2 tbs. ghee (we used Primal Collective: FAT Ghee from grass fed cows!)
Grated macadamias OR parmesan cheese to serve (if you're primal!)
Salt and pepper
Now what
In a food processor, whiz the cauliflower florets until they resemble rice, or you can grate them. Set aside.
In a deep saucepan, melt the ghee on medium-high heat.
Add the shallots and cook until soft.
Add the chicken and cook for 8 minutes or until just cooked through.
Add the cauliflower, mushrooms, chives, tomatoes, stock and coconut milk, stir well.
Allow to simmer, cover and turn heat down to low.
Allow to cook for 10-15 minutes or until the mushrooms are nice and soft.
Season with salt and pepper and serve with grated macadamias/cheese and an extra sprinkle of chives!
Merrymaker tip
This. Is. Delicious! Leave the chicken out and serve this as an amazing side!
Merrymaker Sisters | MerryBody Online Studio: Unlimited Yoga, Pilates and Meditation https://themerrymakersisters.com/
Sending HUGE LOVE to
Optimoz
for providing us with the ghee to create this AMAZEBALLS recipe for our
MerryOptimoz
collaboration!