We love parties and we love having friends over for dinner, breakfast, cake, tea, what ever the occasion may be.
Usually we serve salted caramel slice or triple choc raw cake with chai tea… but sometimes, SOMETIMES, the time is now for Sweet Potato Toppers… or canapes if you're fancy like that.
We're not fancy. So we'll call them Sweet Potato Toppers!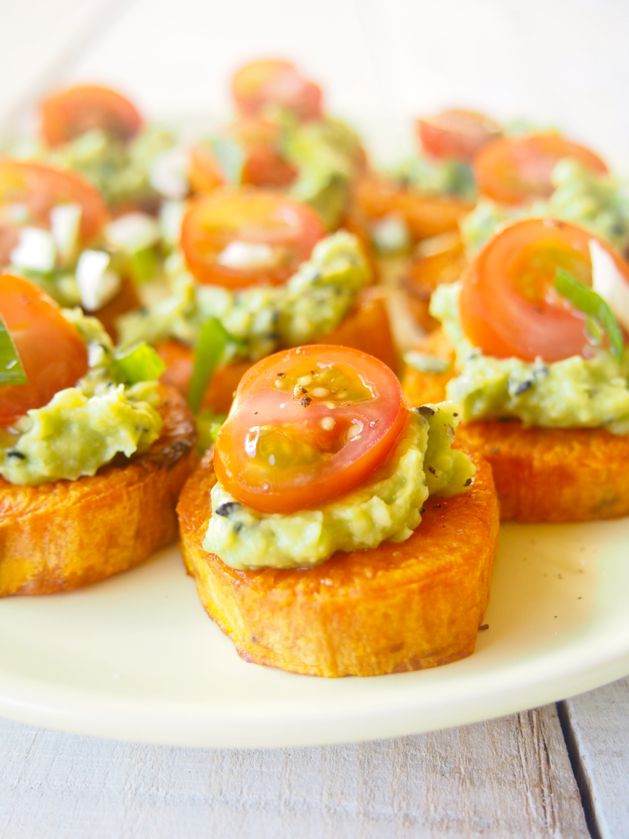 Because it's sweet potato… topped with deliciousness!
We think these would be the perfect addition to your paleo Christmas party! OR Paleo high tea! Wouldn't that be fun and cute? We should make that happen.
We topped ours with smashed avo (mixed with nigella seeds because we're totally obsessed with nigella seeds) and tomato but you really could top these with ANYTHING! You could even turn them in to mini pizzas which would be totally delicious and cute!
Always merrymaking,
Emma + Carla

p.s have you signed up to our weekly newsletter? You should! We send you free stuff! Click here to join!

sweet potato toppers
2015-10-21 21:12:59
Serves 4
stuff you need
1 large sweet potato peeled and cut in to thick slices
1 avocado
1 punnet cherry tomatoes halved
1 shallot (scallion) sliced
1 lemon juiced
1 tsp. nigella seeds (or any spice!)
salt and pepper
1 tbs. macadamia/melted coconut oil
Now what
Preheat oven to 180°C (350°F) and line 2 baking trays with baking paper.
Place the sweet potato slices on to the baking trays and brush with oil.
Place in to the oven for 20 minutes, turn the slices and return to the oven for a further 20 minutes.
Meanwhile, in a small bowl mash together the avocado, nigella seeds, lemon juice, salt and pepper.
When the sweet potato slices are ready, top each slice with a teaspoon of avocado mix, half a tomato and sprinkle with shallots!
Merrymaker tip
Just before serving, drizzle with a little olive oil and season with extra salt and pepper!
Merrymaker Sisters | MerryBody Online Studio: Unlimited Yoga, Pilates and Meditation https://themerrymakersisters.com/