Happy Australia Day everyone! What are you doing to celebrate? We will be having a BBQ with some of our favourite friends, there will (of course) be yummy Australia Day paleo food involved!
We haven't finalised our Aussie Day menu yet but here's a round up of some of The Best Australia Day Paleo Recipes! We've included our favourite merrymaker recipes plus recipes from our foodie blogger mates!
We love lamb and this Paleo Macadamia Mustard Crusted Lamb Rack is a bit of a show stopper. Your friends will love you forever and ever!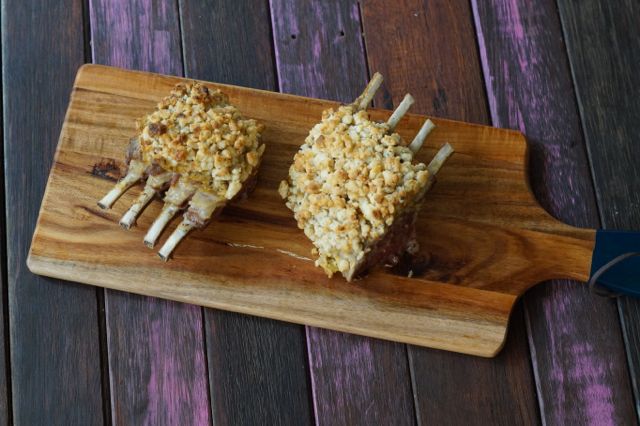 Or what about this epic Slow Cooked Lamb with Smashed Mint and Ricotta Peas recipe from Bondi Harvest. DROOL! (primal with the ricotta!).
If you're after lamb burgers you've got to try these lamb and quinoa burger patties. YUM!
We will definitely be making our paleo potato salad (drool) and our all time fave roast veggie salad with creamy basil dressing. These recipes are in our Salad eBook!
We made a paleo lamington cake, because we could not be bothered with the cube cutting, choc dipping and coconut rolling. It tastes like and looks almost like a lamington except way way way easier to make! Get the recipe!
If you want to try a real lamingtons (the cube, dipped in choc type), try this paleo lamington recipe!
Of course everyone will be throwing shrimp on the barbie. Try our paleo PRAWNS wrapped in bacon recipe here! Totally delish!
Ok, we know everyone is after a paleo pavlova recipe. Last year Merrymaker Mum seriously made about 5 paleo pavlovas and chucked about 4! By the end of it she made a great paleo pavlova (and never wanted to make it again!) BUT it wasn't all kinds of amazing so we've made a paleo pavlova look alike and it tastes bloody good!
Get Mum's recipe here or get the new paleo pavlova look alike here.
Australia Day is usually hot, you've got to check out these real life healthy zooper dopers aka fruit icey pops! The perfect finish to a delish paleo Australia Day menu!
We hope you have a fun sunshine filled Aussie Day. Don't forget to share your drool worthy creations with us on social media (we love instagram and facebook)! Use #themerrymakersisters so we don't miss any! Plus, why not pin the below image so you can save all the recipes for later!
Always Merrymaking,
Emma + Carla