That's right… we're claiming that this is the BEST Paleo Banana Bread EVER… well, that we've tasted anyway! Yay! Yum! We think you're going to love it too!
Yep! That means gluten free, grain free, dairy free (if you swap out the butter!), refined sugar free banana bread! Taste free? Na-uhhh! Taste FULL!
It's all thanks to Merrymaker Mum – seriously, she makes the BEST paleo sweet treats.
This banana bread is so delicious, we've even made it into banana bread and butter pudding, you can get that recipe OVER HERE!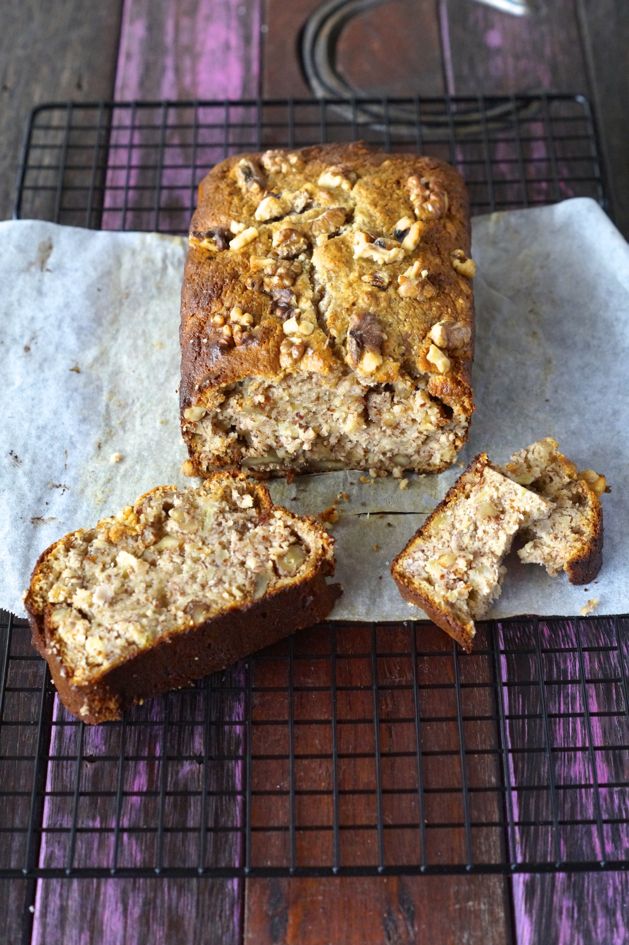 To make this paleo banana bread all kinds of crazy yum, whip up a batch of our sugar free chocolate and drizzle on top… oh. My. Food!
Made it? Loved it? Yay! Share a photo on Instagram using #themerrymakersisters so we can share it with the whole wide worrrrrrld!
Also… this epic healthy banana bread makes the BEST post Pilates or Yoga snack. It's like the ultimate bliss-filled session.
Yoga and Pilates completely changed our lives and this is why we created MerryBoud Online Yoga, Pilates and Meditation Studio.
The MerryBody Method™ thinks about exercising and fitness in a different, refreshing and entirely holistic way with two steps…
Building a positive, renewed mindset
By shifting your mindset, you can change your relationship with working out and your body. You'll learn to cultivate a positive mindset that changes the voice in your head from "I need to lose weight" to "I'm doing this because I actually enjoy it and because it feels good".
No matter what your body looks like, the most important thing is how you feel about yourself. Through Meditation and focusing on your mindset, MerryBody Online Studio looks at your intentions and works first on accepting yourself.
Movement that makes your body feel joy
To give you the joy of moving freely and in an empowering way – it shouldn't cause you to barely be able to walk down the stairs or cause you to need to roll out of bed after a workout. The way we see it, the goal of exercise should be to make your body feel amazing.
Take time to understand your body's needs, how it responds and exercise in a way that's just right for you – and brings you the most joy. Using a gentle yet effective approach of Pilates and Yoga, MerryBody workouts invite you to explore what feels good for your body.
If this resonates with you we invite you to try MerryBody for 7 days. Experience the classes, the meditations, the community and see how you feel.
You can sign up for your 7 Day MerryBody Experience OVER HERE!
Always merrymaking,
Emma + Carla
merrymaker mum's best banana bread
2015-05-31 04:16:35
Serves 8
stuff you need
150 g (5 oz.) butter cubed (or coconut oil)
3 ripe bananas mashed
2 eggs
2 cups blanched almond meal
¾ cup walnuts chopped and 2 tbs. extra
1 tsp. 100% vanilla extract
1 tsp. baking powder
now what
Preheat oven to 180°C (350°F) and line a 20cm x 10 cm (8 x 4 inch) loaf tin with baking paper.
In a mix master cream the butter, eggs and vanilla.
In a large bowl mix the almond meal, walnuts and baking powder.
Add the butter mixture and mashed bananas and stir until combined.
Transfer mixture in to prepared tin, sprinkle with extra walnuts and place in to the oven for 50 minutes or until it springs back when you lightly touch the top.
Allow to cool before you turn out, slice and serve!
merrymaker tip
To make this nana bread all kinds of crazy yum, whip up a batch of our sugar free chocolate (link above!) and drizzle on top… oh. My. Food! Also, you can add 1/4 cup of honey if you'd like it sweeter 🙂
Merrymaker Sisters | MerryBody Online Studio: Unlimited Yoga, Pilates and Meditation https://themerrymakersisters.com/