Yin Yoga is one of the most popular styles of Yoga inside the MerryBody App. In fact, we've often joked and said that we should make MerryBody purely the best Yin Yoga App. However, we know our Members would miss the fiery Pilates and blissful Yoga flow sessions. All of this aside, I've definitely noticed an increase in the amount of Yin Yoga classes being completed inside MerryBody, for good reason.
You see, Yin Yoga is very unique. It's a slow-paced Yoga style that incorporates passive, long-hold stretches, along with mindfulness and deep relaxation. Our Pilates instructor (and my Sister), Emma, will often describe it as "the gateway to meditation." If you do struggle with meditation, if the thought of sitting still for minutes on end makes you laugh out loud, then perhaps Yin Yoga is the tool for you.
Yin Yoga was first developed in the 1970s by Paulie Zink. It was then made popular by world-renowned teachers Paul Grilley and Sarah Powers. It was Paul's book, Yin Yoga: Principles & Practice that inspired me to do my own Yin Yoga Teacher Training and bring this style of Yoga into the MerryBody App. Side note: I'm excited to create our own Yin Yoga Teacher Training soon!
The major difference between Yin Yoga, as opposed to Hatha Yoga and Vinyasa Yoga is that Yin Yoga primarily focuses on the connective tissues within the body, rather than muscles. Tissues such as tendons, ligaments and fascia.
What is Yin Yoga?
Yin Yoga combines long hold stretches in order to focus and de-stress the mind. It's a pratice that helps you release tension from your mind and body. These postures are held for anywhere between 3 to 10 minutes. During the process of these longer holds, a deeper stretch can be experienced. This results in greater flexibility of tissues and an increase in bone density.
How does Yin Yoga work?
Yin Yoga is a passive and gentle movement practice. If you're looking to work up a sweat, this class is not the one to choose! However, if you're looking to feel relaxed, focused, grounded and present, Yin Yoga is the practice for you. I would always recommend 1-3 Yin Classes a week, along with some strength-based training, like Pilates or Flow Yoga.
Unlike your Yoga flow classes, Yin Yoga requires less muscular engagement. Instead of your muscles holding the pose, you are encouraged to let go of any engagement and rather relax into the pose. To help you get the most benefits out of the practice, you work with gravity. It feels like a 'melting' into the pose.
The stretching of the connective tissue and holding these stretches for longer periods of time is what can improve joint flexibility and range of motion. It has also been found that the way the bones are pulled apart from each other can then, in turn, increase bone density. Bone density is extremely important when it comes to avoiding injury, especially as we all age.
So Yin Yoga is a Longevity tool?
Yes, the idea of living longer is amazing, but it's even more important that those years are filled with health and vitality. The exciting thing, Yin Yoga is an amazing longevity tool. It incorporates mindfulness and mobility work, so it not only benefits your present moment (the here and the now) but will help you age vibrantly with ease.
Also, did you know that a meditation practice can actually boost your memory? A consistent meditation and mindfulness practice not only helps your brain stay sharp, but it can help you feel more connected and compassionate to friends, family and yourself.
What do I need to practice Yin Yoga (tell me the Best Yin Yoga App!)
Yin Yoga is a practice that works with YOU. This means, there are many variations and props that can help support you during your practice. It's important to remember that the most important thing about Yin Yoga is that it's not about what it looks like, it's more about what it feels like.
To get the most out of your Yin Yoga, we'd suggest following guided classes. You can do your own poses, however, it's really easy to lose focus and get distracted. This is why guided Yin Yoga classes are so popular! The best Yin Yoga App is the MerryBody App (of course). Inside the MerryBody App there are over 55 Yin Yoga classes (as of October 2023) and more classes are consistently added. These classes range between 15-35 minutes and always offer a different theme and body focus, so you can find the exact class you're looking for. There are also 500 other classes, including flow yoga, Pilates, Barre and meditation.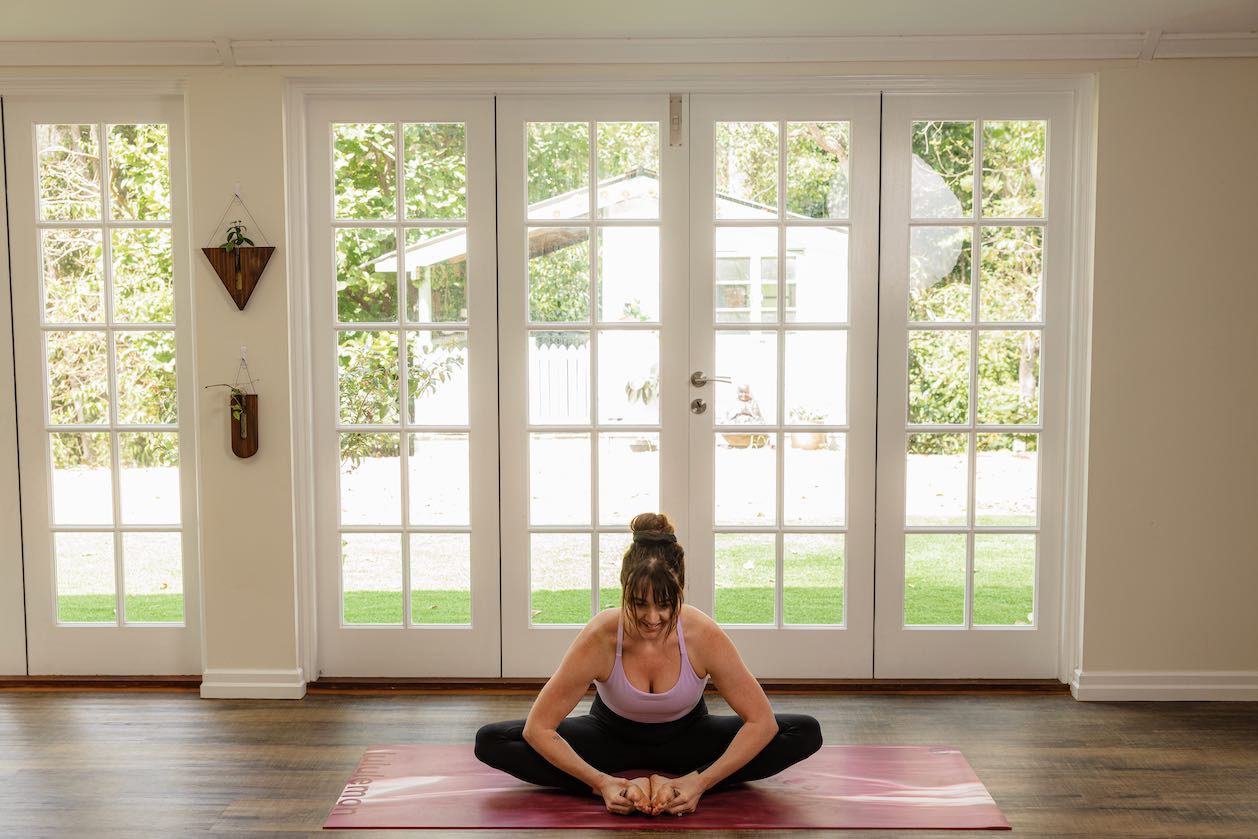 For example, Desk Worker Yin Yoga is the perfect class if you've been sitting all day and need to straighten and lengthen your posture.
Nurture and Bloom Yin Yoga, is the perfect class if you're looking to take a dive inward and get to know yourself. You'll then be encouraged to allow that inner light to bloom.
Every class inside MerryBody differs. It's always an exciting experience to choose the perfect class for your mood and how your body is feeling.
To make your experience even more supportive, you might like to add a bolster (or two firm cushions), along with a Yoga mat and blanket to your practice. These are the most common props used within a Yin Yoga class.
The last thing you'll need… is your breath! Lucky you always have that! But really try to focus on using your breath to help you relax and be present. Don't worry, we will remind you during class to do this.
Who can do Yin Yoga?
Yin Yoga is a practice that can be accessible to all ages and abilities. If you're looking to increase your flexibility, decrease stress and create a deeper connection to yourself and others, this practice should be on your weekly to-do list.
In all my years of being a Yoga Teacher, I've never once heard someone say "I regret that Yin Yoga class."
In fact, the most common sentence I hear after a Yin Yoga class is… "OH WOW I FEEL SO GOOD! I should do more Yin!"
In a world that is go-go, Yin Yoga offers the perfect way to counterbalance all this Yang energy.
Whenever we add a brand new Yin Class to the MerryBody App, our Members get so excited. They can't wait to jump into the App, press play and feel the benefits of this beautiful practice.
Love Your Liver Yin Yoga is 35 minutes of goodness from the MerryBody App. During this class you will compress, stretch and twist your Liver Meridian. You will balance your Liver Meridian which in turn will help detoxify the body (especially the blood) and regulate the energy of your mind and body.
If you want access to all our online Yin Yoga Classes be sure to begin your 7 day trial, you could press play on a daily Yin class over this 7 day period to really feel the benefits of this incredible pratice.
It's not just a Yin Yoga App, you'll find Vinyasa, Pilates, Barre, Meditation and Mindset Masterclasses. For just $29.99 (AUD) per month, or $19.99 (USD) you can access an amazing tool that will support your mind and body health goals.
If you're excited to begin your journey with MerryBody, begin your trial today.
Always merrymaking,
Carla (and Emma)
Ps. Here's a little sneak peek of one of our online Yin Classes. Try it out and let us know how you feel!