Ahh yes, another Italian recipe, this time we made Tiramisu. We actually made 2 versions, one regular traditional Tiramisu and also a Gluten Free Tiramisu.
The recipes are very easy to get right but also quite easy to get wrong. OK, so we really loved our Gluten Free Tiramisu, but did the Italian like the regular one? Hmmm.
Damiano gave us 6/10 for our tiramisu.
Where did we go wrong? Well, we used a mix of monk fruit and xylitol instead of sugar. We just wanted to test it out… haha we didn't even tell him, just to see if he would notice.
BAHAHAHAAA… of course he noticed!
And he said… it simply does not work and never ever offer this to another Italian.
Ok, noted. Everyone needs a Damiano to tell you the brutal truth.
But in other news, Joel LOVED it… everyone also needs a Joel, to tell you what you want to hear (haha).
But NOW, we really do understand and appreciate the science of cooking. We also realise just how important tradition is. So if you do make this recipe we'd recommend, use real sugar. Go gluten free if you need to but opt for the real sugar stuff to make the real Tiramisu.
And yes, you might be wondering… first these Sisters were paleo recipe bloggers, then it was low carb and now Italian Sweet treats? Huh?
Well, really, if you look back you'd find the Torta Caprese Recipe, the Italian Ricotta, Pear and Choc Chip Crostata, and a whole article about What Pasta Taught us after Years of Dieting and Calorie Counting (it's pretty good, read it here). So we understand why you may think this! But you'd also know we're fairly obsessed with Yoga, Pilates, and Meditation (if you have not seen MerryBody yet, head on over HERE!)
But really, if your boyfriend was Italian I am (Emma here) sure you'd all of sudden be loving everything delicious and Italian… right?! Haha. Sometimes I question myself (always important), am I this easy to influence?! Or have my taste buds completely changed now that I am with Damiano?!
And wait, Carla's taste buds have changed too! Haha, this is the best part really… the influence has even reached little sister, of course!
But this is what happens when you've been obsessed with dieting during your teenage years and your twenties.
Don't get us wrong, we sure did eat our share of Pizza and Gelato when we went to Italy way back in 2011 (Damiano assures us we experienced nothing. HAHA. Yes, maybe we were typical tourists, identifiable Australians wearing our thongs around the city. We loved it!). But even reading our travel diary, the food guilt and comments like… as soon as we are back home we diet… talk is throughout.
Guess what. As soon as we came back home we got onto whatever fad diet or restrictive eating plan was popular.
Really, meeting Damiano and embracing his love of Italian food allowed us to see just how much Diet Culture and food still ruled our lives… even when we thought we were over it!
Because you see, we were not on a diet but still… we did not eat cheese, gluten, sugar, and we were still afraid of most carbs (sounds like a pretty strict diet!). And hey, these are really healthy habits… but not when they also create anxiety and fear around food.
AND GUESS WHAT… eating one pizza every now and then is not a crime, you won't gain 5 kgs overnight and you don't have to have an internal meltdown.
Also, when someone makes you homemade fettuccine with ragu that has been cooking all afternoon… you don't have to turn it down. You can actually be excited and grateful for it.
Having dessert at the fancy restaurant (even with the sugar and the gluten) is something to bring joy… not judgement and fear. You can have a few bites, even more, if you want… you really can.
And if all this is bringing more anxiety, as we always say… find an expert and get the help you need. If you want to hear us talk more about all this check out all these Podcast Episodes.
And of course, turn down the food for moral and ethical reasons, turn it down if you're allergic but if it's just for your diet and you're worried about putting on weight from this one dinner or dessert we'd really recommend just have a small plate. Call it an experiment.
But really, just do whatever the hell you want… and always question everything you read and hear. Of course, question us, it's just our opinions after all and yes, even question yourself.
We always find it's good to remember that life is not forever… so eat the Tiramisu.
Also believe in yourself, your dreams and your worth.
And if you ever hear yourself say "once I lose that 5kgs then I'll go do xyz"… use it as a catalyst to go ahead and do the thing right away, book the holiday, say yes to the opportunity, ask them on a date, give yourself time to pursue your goals.
The below statement is rather harsh but wow is it true!
Don't waste so much time thinking about how much you weigh. There is no more mind-numbing, boring, idiotic, self-destructive diversion from the fun of living. – Meryl Streep
This is why self-acceptance and joy are the missions behind everything we do.
Always merrymaking,
Emma + Carla
Ps. And if you do make the recipe, let us know! We'd love to see a pic!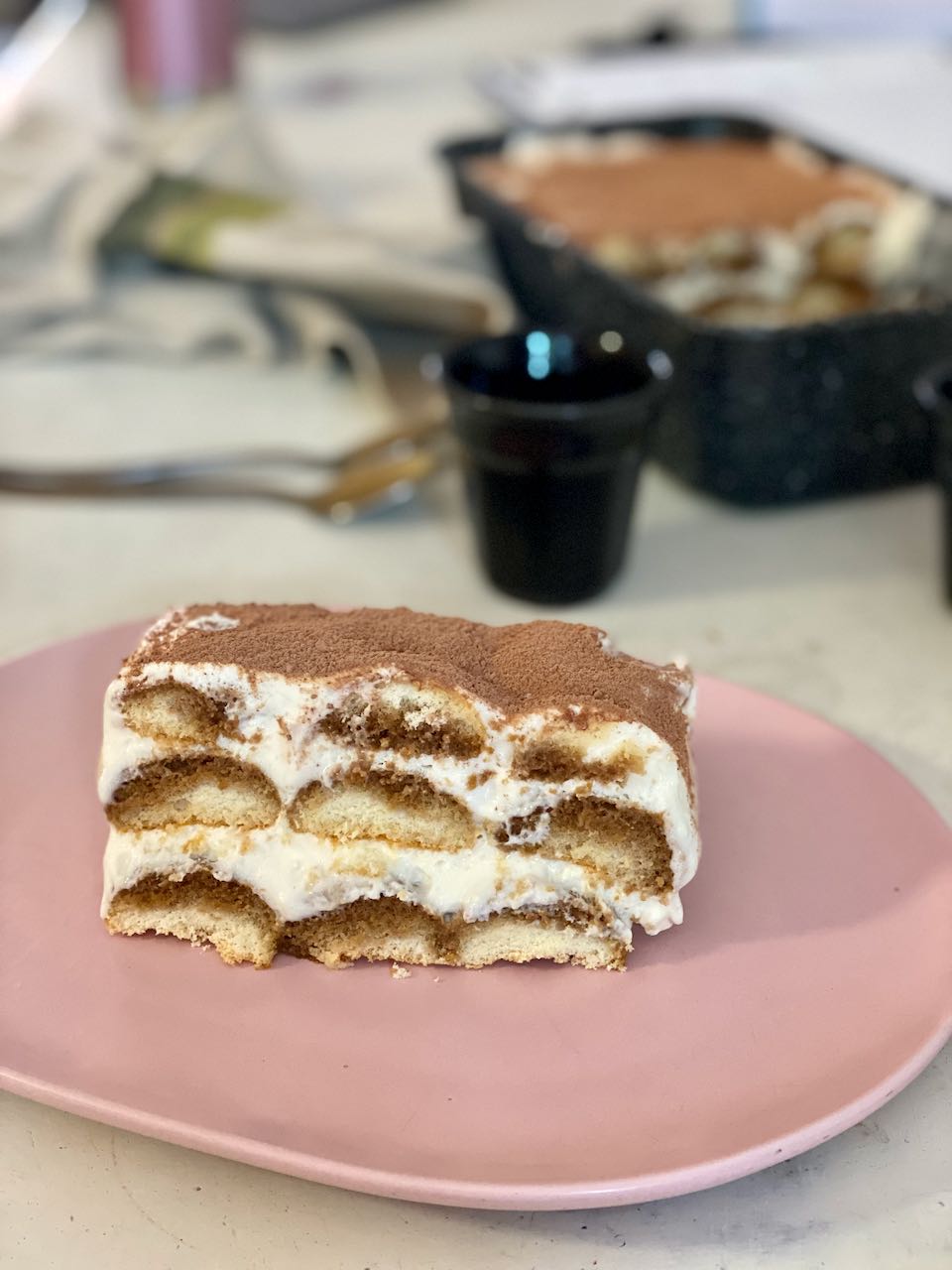 Gluten Free Tiramisu
STUFF YOU NEED
For the tiramisu
300

g (10.5 oz)

Gluten Free Savoiardi Ladyfingers

Option to use regular Savoiardi

500

g (1.1 lb.)

Mascarpone cheese

6

Fresh eggs

100

g (3.5 oz.)

sugar or xylitol

300

g (10.5 oz)

Espresso coffee (about 1 metric cup)

Option to use instant coffee

1

tbs.

Marsala wine

Optional

2

tbs.

Raw cacao powder
NOW WHAT
Start with making the coffee, you may want to make extra as no doubt while you're brewing fresh coffee you'll want to drink some! Add the Marsala wine, and allow to cool. Remember the wine is optional.

Separate egg whites from yolks into two mixing bowls.

Using a hand held electric mixer or mix master, whisk the egg whites until stiff, until you have soft white peaks. Set aside.

In the other bowl with the egg yolks, add the sugar and use the electric mixer and whisk until pale and smooth, it will take around 3 to 4 minutes.

Then add the mascarpone cheese to the egg yolk mix. Use the electric mixer on low level.

Once the egg yolks and mascarpone are smooth add the eggs whites, slowly. Use a wooden spoon and add spoon by spoon. Mix carefully, slowly. Set aside.

Now, grab your biscuits, coffee and tray or ceramic dish. One by one, dip the biscuits into the coffee, but not too much (this will make it too soggy), and create a layer of biscuits on the bottom of the tray. We even just dipped one side for like 2 seconds and that was plenty!

Spread the delish mascarpone and egg mix on top of the Savoiardi.

Add another layer of Savoiardi and then cover with more mascarpone cream.

Cover and place in to the fridge for at least 6 hours but overnight is way better!

When you are ready to serve, use a sieve and dust the top with cacao. Enjoy!
MERRYMAKER TIP
Because there are raw eggs in the recipe it's best to eat within 2-3 days.