We love our podcast so much. Really it's just Carla and I talking about life, the magic, the mess, the great things, the BS, the stuff that makes us feel like crazy people, the stuff that makes us feel good… all of it.
Recurring topics that come up are binge eating, diets and body image. Because we both spent WAY too long feeling too fat, not good enough with no confidence. We also spent years trying all the diets, over-exercising, under-eating, binging and disorderly eating.
In these episodes you'll hear us talk about our experience and the exact steps we took to overcome all of this… and we help you see the truth… that you are amazing just as you are. That you are so much more than what you look like.
We've gone from newest to oldest… but we'd say listen to whichever one feels right for you!
Remember, we simply talk from experience… this is not medical advice, it's more like advice from a friend who loves you.
266: Diet Culture made us do it
In this episode, we chat diet culture and how it really does suck. We delve deeper into our diet stories. We reflect on the 'normal' things we used to do like not drink enough water before a weigh-in, over-exercising, under-eating, binging/purging and priding ourselves on how skinny we had got.
After all the work we've done… speaking about these stories in more depth actually frightened us a little. Trigger warning for anyone who is dealing with disorderly eating and negative body image stuff.
Tune in to this episode on iTunes here
or Spotify over here
or find it on our website right here.
258: Negative body image, interview with clinical psychologist Miriam Emad
In this interview, you'll gain a psychologist's perspective on negative body image. You'll also leave with ideas and ways to deal with your negative thoughts around the way you look.
Miriam talks about where and when negative body image originated and how it's adapted in our modern society, why we compare ourselves to others and how we can begin the practice of just observing our body rather than forever judging and criticizing it.
Tune in to this episode on iTunes here
or Spotify over here
or find it on our website right here.
ALSO! Did you know you can get access to our MerryBody Online Yoga, Pilates and Meditation for FREE! Try it for 7 days, risk-free!

Ep 232: The Pizza Episode
It's us talking about why eating pizza represented another step forward in creating a positive relationship with food. We give you a brief rundown of our past relationships with food… binge eating, starvation, dieting, bulimia etc. How food and dieting used to consume our minds. How any 'health goal' was linked to an external goal like… lose weight, get skinnier, get a flat stomach.
Tune in to this episode on iTunes here
or find it on our website right here.
Ep 204: when Instagram makes you feel poor, fat and unloved
We wanted to add this episode as it focuses on social media. Really it's about getting stuck with comparing yourself to others… it's not Instagram's fault, it's just become easier than ever to compare now.
The good thing is that we can CHOOSE who we follow. The not so good thing is that it's so easy to forget this and you can find yourself following all the accounts that make you feel bloody crap about your life and your body.
Tune in to this episode on iTunes here
or checkout Spotify right here
or find it on our website here!
Ep 203: is it time to delete 'lose weight' from your goals list once and for all?
How long have you had 'lose weight' on your goals list? How long have you felt that you'll be happy with your body after you lose those 5 extra kgs? How many times a month, week or maybe day do you look at your body and find something you dislike? How often do you feel self-conscious about your body and say NO to things because you feel this body shame?
Lose 5kg was on our to-do list for at least 15 years, if not more. And every now and then it comes back.
During this episode, we tell you exactly how we deal with these times. How we help each other see the truth. How we don't allow ourselves to spiral down the comparison and shame black hole of emptiness.
Find this episode on iTunes here,
get it on Spotify over here
or tine in on our website right here!
Ep 195: thigh gaps, big booty gains, toblerone tunnels. Urgh, what's next?
During this episode, we chat about the pressures and dangers of body trends. It's a great episode if you've been on a mission to get a thigh gap or if you're obsessed with booty gains or desperate to get flat as rock hard abs.
We walk down memory lane of all the trends. From teeny wastes to no waists. From flat butts to big butts. From big busts, to no cleavage, to some cleavage, to none again (OMG how ridiculous is this?).
We talk about the magic of acceptance. How we must focus on embracing and accepting who we are. This is the only way things will change. It's time to celebrate our differences.
Find this episode on iTunes over HERE,
or tune in on our website right here.
186: Why do you overeat? And how to stop
We chat more about our personal experience with dieting and binge eating. How, when and how long did it take to change our eating behaviours. We question what does it actually mean when we overeat? And we touch on how to deal with friends and family who might not understand your desire to change.
Tune into this Get Merry Podcast episode
you can find it on Spotify here
and on our website HERE.
170: crop tops and fat rolls
We had a lot of fun during this episode. A reflection of far we've come with our relationships with our bodies, how we felt about our bodies then and how we feel now. And the change is huge. We also give you some ideas on how to change your self-talk.
We chat about self-worth, we question why and how we developed such low self-worth. We describe what our self-talk used to sound like and compare it to now, plus the steps to change your self-talk.
Tune in on iTunes here,
find the episode on Spotify here,
check it out on our website here.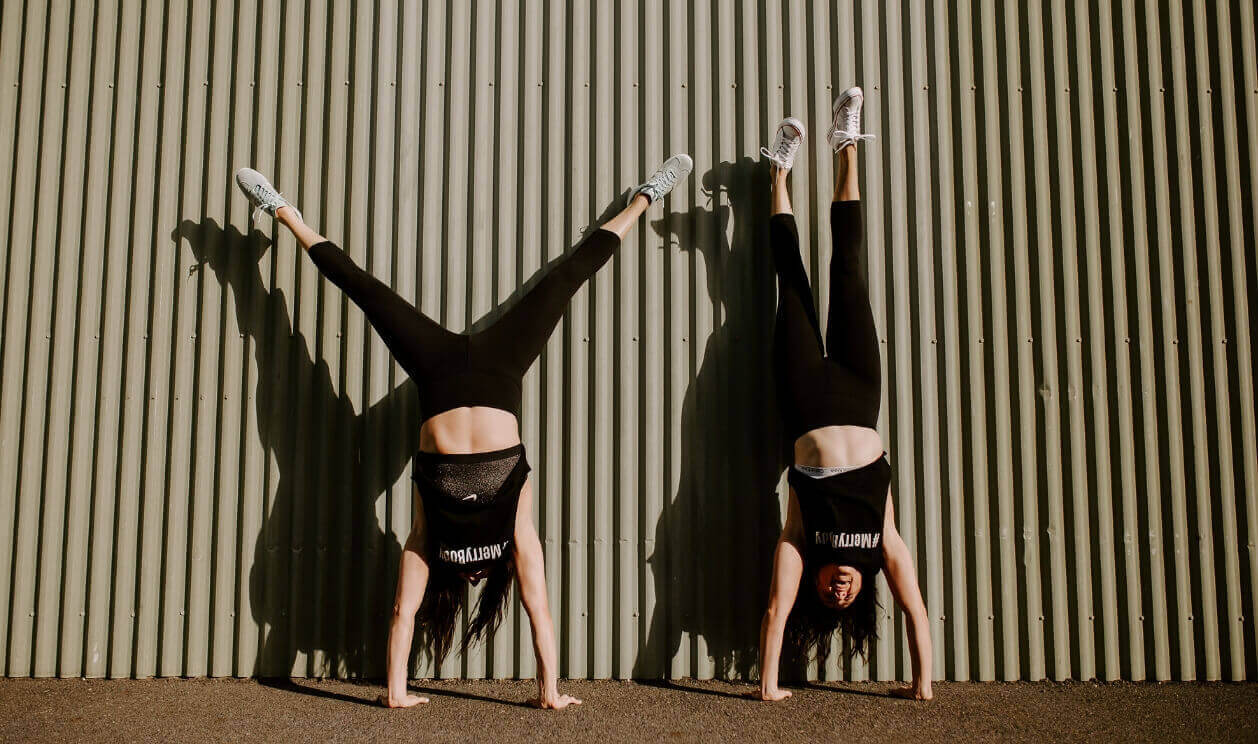 124: Stop hating your body… this is how we did it
We've voted… and it's time to stop hating your body. We've both spent a lot of time hating our bodies. It's taken a while and we still fall back… but finally, we can both say that we love our bodies (but as we said, we still fall back!).
We chat about how we have gone from a place of hate to a place of love when it comes to exercise and eating. What we actually did to start loving our bodies and what to do when you fall back.
Find the episode on iTunes here,
91: The binge eating episode
This was our first ever podcast episode on this topic (haha just before this we were talking about business! CRAZY). It's a general chat, on why we used to binge (or at least why we THINK we used to!) and how we got through it.
Tune on iTunes over here,
check it on Spotify
or on our website HERE!
If you loved any of these episodes let us know! Send us a message on social media and tell us which episode you loved most!
The best way to help us is to share these episodes with your friends and family. We'd be forever grateful if you rated and reviewed them on iTunes too!
Always merrymaking,
Emma + Carla
P.s we used Yoga, Pilates and Meditation to help us through our negative body image stuff and binge eating. You can try the MerryBody Online Studio for FREE for your first 7 days. GET YOUR ACCESS HERE.