We're seriously SO grateful we pressed publish on our first ever blog post back in February 2013. We never really thought it would turn in to our full time career… we also didn't know that we were about to find our bliss! I.e totally fall in love with blogging, social media and providing YOU guys with ways to live healthy and happy. We have to say that this biz takes us places… well, actually, we allow the biz to take us places, as we're forever searching for the next conference to attend or the next healthy hot spot we need to review! We are pleased to announce that we've discovered a new healthy holiday destination! The Philippines!
If you're anything like us, you probably have no idea where it is! We thought it was near Fiji! We were wrong. It's in Asia, and in a plane, it will take you about 13 hours to get there (from Sydney that is)… in a boat, obviously much longer.
The main reason for our Philippines visit was the Tropical Think Tank conference (epic online business conference, minds blown, read more!). And not only did we get so much value from the conference BUT we really really loved being in the Philippines! Gotta love that! It's a WIN! WIN!
To be specific, we were on the island of Cebu staying at the beautiful Crimson Resort Mactan. This was the perfect introduction to the Philippines. We've come home motivated to visit again to see and experience more of the Filipino culture (question, how come Filipino is spelt with an 'F' and not a 'P'?).
Let's talk highlights…
The view! No words are really required…
Next highlight… THE FOOD! Oh YEAH! Thanks to the amazing team at Crimson Resort we enjoyed the most delicious dinner at the Azure Beach Club. Starting with tuna tataki, a seaweed salad with wasabi dressing and grilled king prawns.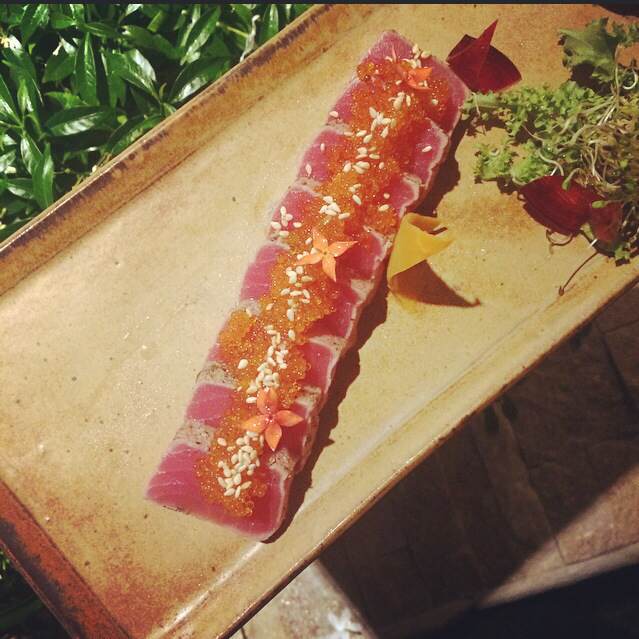 At this very moment we were in some serious food heaven but then the steak came out *round of applause* It was a 1 kg grass fed T-bone… and there's no exaggeration when we say it was the. Best. Steak. Of. Our. Lives! It was too good (and too big) not to share with our conference buddies!
But oh of course we could fit in dessert… especially because the amazing staff catered to our dietary requirements perfectly. And really, how can you say no to fried bananas with cinnamon…?! Hello yummy treat (you guys know we don't eat nanas often!).
Before we leave the topic of food we need to mention the mangoes. We're pretty sure we ate about 10 mangoes each in the Philippines… because they are simply the best mangoes in the whole world! Again we're not exaggerating. Did you know mangoes are the national fruit of the Philippines? They also hold the world record for the biggest mango in the world. There's some fun facts… surely they'll pop up during your next trivia night!
Eating healthy in the Philippines was easy! Just stick to cooked veggies, grilled fish and meats and loads of bottled water!
If we were actually holidaying and not conferencing you would've found us at the Aum Spa everyday (they provide daily yoga!). One word: Bliss.
We indulged in THREE HOURS of bliss to be exact, starting with steam room, sauna, jacuzzi followed by a full body polish and wrap with a full body massage. We floated out with huge dopey smiles on our faces #blissedout. Some serious self love and care went down! It's a beautiful spa with lovely staff, quality treatments and AMAZING prices. We'd seriously think about going back just for a spa holiday (people do that, we've never… but sounds like fun… right!? Right!). Three hours of spa worked out to be around $90AUS each… seriously… crazy spa prices. You KNOW that we always prescribe self-loving for optimal health… sooooo we say indulge, book in the spa!
Oh we also went on a boat… this is always fun. Clear blue waters, not too cold, magical coral and cute fish!
Nature and especially salt water is super healing for the body! Even when you're not on holidays we vote scheduling in outside time every single day, aim for just 15 minutes!
Last but definitely not least… we just have to mention that every Filipino we met was super friendly, helpful and nice! Especially our breakfast waitress Ann (we miss you!), we're Facebook friends now! Our room cleaner Ariel (who makes the BEST towel animals (see below), Archie who looked after our dietary requirements during our amazing dinner and Jope who we met for lunch and chatted all things the Philippines with us! Thank you thank you thank you times a million!
We'll see you next year… yes, we're totally planning another trip!
Always merrymaking,
Emma + Carla