Give us a fritter any day. There's something awesome about fritters. The fact that you can enjoy them as is or topped with deliciousness like avocado or served as a side for brekky, lunch or dinner! Talk about versatility! Go the fritter!
Delicious is what comes to mind when we think about our super easy Paleo Sweet Potato Fritters.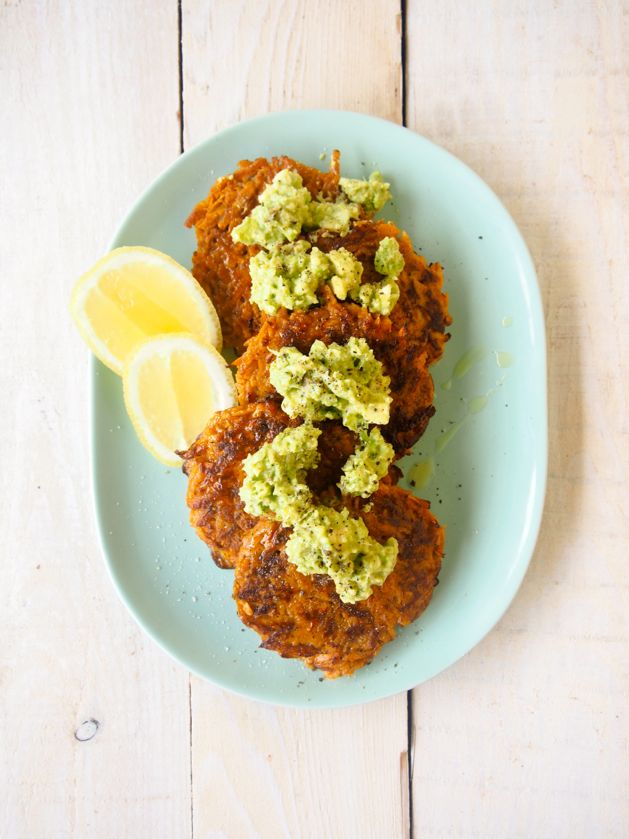 We LOVE sweet potato. Anything with sweet potato goes in Merrymaker Land. We're talking chips, pancakes, brownies. Sweet potato is definitely queen of veggies (one of them anyway). Our real fave veggie is zucchini. Shh, don't tell sweet potato.
Back to the fritters because the fritters really do win here! Whip these Paleo Sweet Potato Fritters up for your next brunch party and your guests will all be SUPER impressed. We promise!
Always merrymaking,
Emma + Carla
p.s did you know we're also Pilates and Yoga teachers?! We have an Online Studio called MerryBody and you can experience it all for no cost! Sign up HERE and get your FREE 7 Day MerryBody Experience!
MerryBody is a little different to regular Yoga and Pilates and other online fitness programs.
You see… Somewhere, somehow and for some reason, the common idea of being "healthy" puts practically zero emphases on loving and being kind to yourself… and it's time to change that.

Through the empowering combination of Yoga, Pilates and Meditation, MerryBody will totally change the way you workout – AND how you feel about yourself. 100% online, on-demand, it puts you in complete control, letting you pursue your own personal idea of what it means to feel good, respect and care for yourself.
paleo sweet potato fritters
2015-10-21 00:53:58
Serves 4
Stuff you need
3 cups grated sweet potato (about 1 large sweet potato)
4 eggs whisked
2 tsp. paprika
salt and pepper
butter/ghee for the pan
Now what
Squeeze out any excess juice from the grated sweet potato and place in to a bowl.
Add the eggs, paprika, salt and pepper and mix well.
In a fry pan on medium heat melt some butter.
Use a 1/4 cup to scoop out fritter batter, carefully form in to a fritter with your hands and place in to the fry pan.
Cook for 5 minutes, flip, press down with a spatula, then cook for a further 5 minutes.
Continue to do this with all the fritter batter, it will make about 10-12 fritters.
YUM!
Merrymaker tip
Serve with mashed avo, lemon and a drizzle of olive oil! Yum!
Merrymaker Sisters | MerryBody Online Studio: Unlimited Yoga, Pilates and Meditation https://themerrymakersisters.com/