Yay for Merrymaker Easter recipes and yay for making healthy Easter treats! We've done an epic round up of all our fave healthy easter recipes. Get ready for delishness!
Paleo hot cross buns
This recipe might be our all-time fave easter recipe because when you bake them your house smells like Easter. It's the best most delish thing ever! Grab the recipe on our Get Merry app or the blog!
Choc raspberry tart
Ok, cue applause for this delish thing! This might be our brand new fave recipe. Just look at it! Droooool! This is an app only recipe, (it's unlocked, so you'll find it in the Sweet Treat section!) but also part of the most epic chocolate Easter bundle in the whole universe! Check out all the app deets HERE! Or just search 'Get Merry' in your app store.
Sugar-free chocolate
Hello yummy! We have a stack of choccy recipe on the blog but this one wins because we made it with Easter moulds… duh. This recipe is even sweetener free, but you can add some honey or rice malt or maple if you like!
Raw carrot cake
Ahhh we love this photo so much! So pretty! And such an easy peasy recipe but 100% impressive. It's just 1 of the 95 recipes included in our Get Merry recipe book. Check it out HERE. Also, makes the perfect Easter gifts!
Easter spiced muffins
If you want a low fructose hot cross bun this is the recipe for you! So easy too! Bake then smother in butter while still hot. Ohhh yeh, healthy Easter recipe perfection! Grab the recipe on the app or on the blog over here!
Triple choc chunk brownies
This is an all year kinda recipe but oh so magical for Easter! Our best paleo brownie by far… and we have a few! Grab it on the app and on the blog!
Carrot and walnut loaf with lemon yoghurt icing
Brand new recipe to the blog and the app yay! So much delishness in one bite! This is the perfect recipe for the people who don't really dig chocolate (yes, we know there are a few of you!). It's on the app and the blog over here!
Healthy Ferrero Rochers
We feel like Ferrero Rochers were always part of our Easter celebrations growing up so we just had to include our healthy version! So quick and easy and of course yum. Recipe is on the app and also on the blog here.

Chocolate self-saucing pudding
This is another epic recipe from our Get Merry recipe book, but we also published it on our blog and app as a little book sneak peek! So bloody yum. Perfect if it's getting cold wherever you are. Check out the recipe.
Low fructose choc chip cookies
Another all year kinda recipe but oh so fun and yum for Easter! Perfect if you are trying to lower your fructose levels too. This recipe took us like 5 times to perfect, we are proud (hehe). Find it on our app and also on the blog!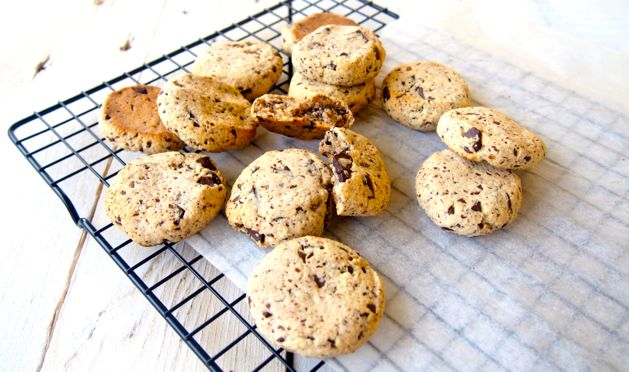 Want more Easter recipes?
You've got to check out our special chocolate app bundle! If you have the Get Merry app already it's just .99c (US) or $1.49 (AUS) to unlock the abundance of delishness! Salted caramel cake, choc hotcakes, easy fudge, peanut clusters… ohhh yum! Find all the info you need to know about the app over here or search 'Get Merry' in your app store.
Yay for the delishness of these Merrymaker Easter recipes! Yay yay yay! If you make any this year make sure you share your creations with us! Join our free Facebook group and get share happy or share away on any social media and tag us so we don't miss it! Woohoooo #GetMerry!
Always merrymaking,
Emma + Carla
P.s Don't forget to check out all the chocolate app bundle recipes! And download the app HERE!