Whenever we share recipes like this delicious and easy ragu recipe, we feel like we need to give you reminders and more context to our relationships with food. If you've been following along with our food and diet journey since the beginning, you know we've had some big changes over the years. From Carla starting her first diet at age 11, me suffering from disorderly eating from 17-22, then discovering the Paleo Diet and starting this blog and sharing hundreds of recipes (like our most popular salted caramel slice recipe). And now? Now we are so happy to not be on a diet! We eat all the food groups, including all those items that were once on the 'bad food list'. Think: gluten, sugar, high-carb veggies, bananas, corn, grains, legumes… yes the list goes on and on!
Since we've loosened up our rigid rules around food, and stopped labelling things as 'bad' or 'good', we've discovered a beautiful new relationship with food. Now, if we want to, we can indulge in a rich, sugary dessert without any guilt. We can savour pizza in Italy (or at home), free from worry. We can accept dinner invites without scrutinizing the menu or asking the chefs to whip up a completely different dish.
We can make the Easy Ragù Recipe and eat it too! With a glass of delicious wine.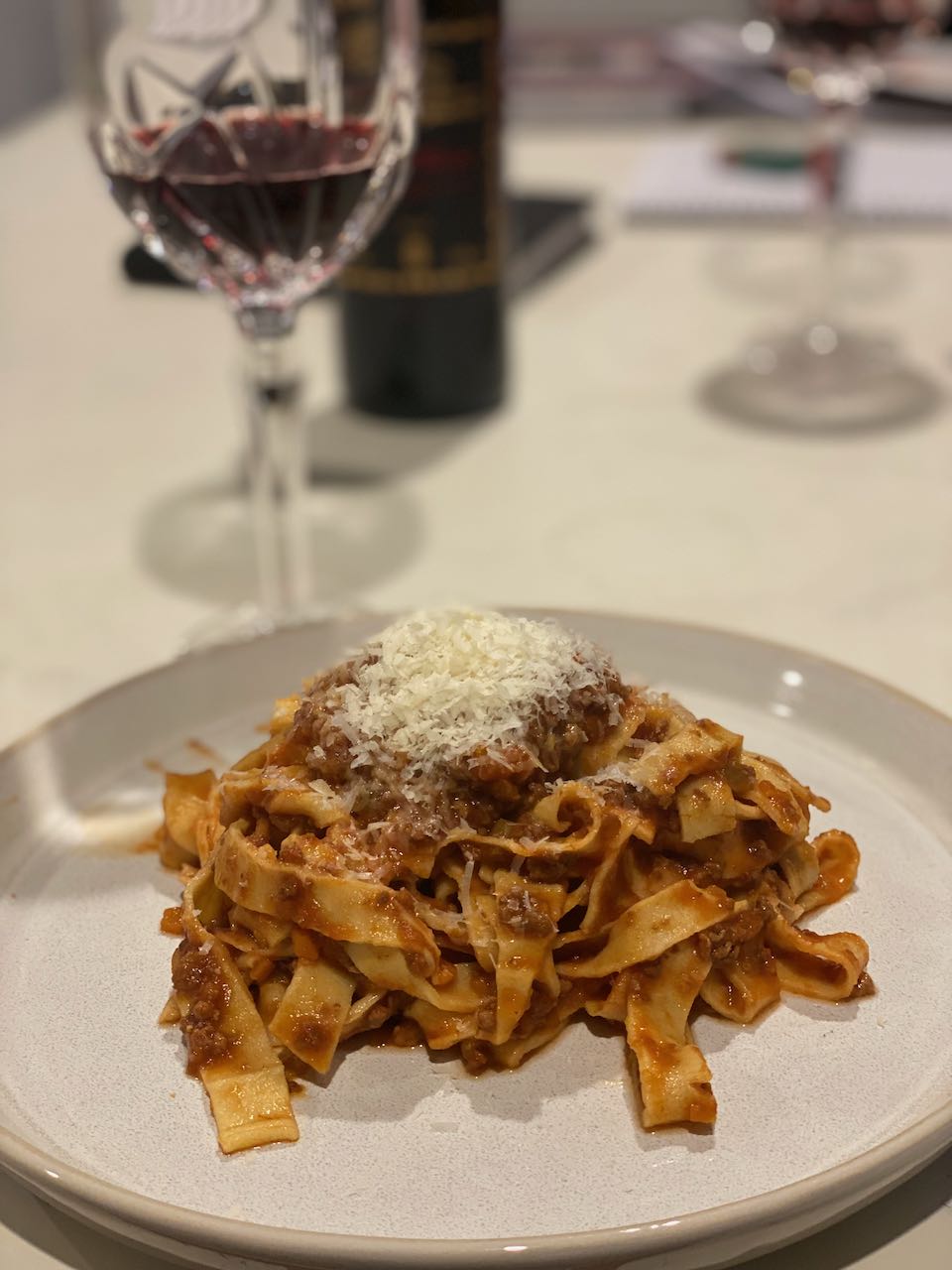 These big shifts came from the realisation that our relentless goal to lose weight and achieve thinness was a societal construct. It was fueled by our deep fears of inadequacy, of not being pretty enough, good enough, enough.
All those hours spent counting calories, stepping onto scales, and obsessing over food took a huge amount of time of our lives! Time that we'll never get back.
We can thank the everlasting changes to our committed work of self-acceptance and the creation of the MerryBody ethos and App. If you're interested in making these big shifts, learn more here.
Embracing self-acceptance and all food groups doesn't imply that we neglect our health. We are well aware that what we put into our digestive systems impacts our health, but we're also well aware that our stress and anxiety levels also impact our health.
Most days we eat whole food, heaps of veggies, great proteins, fruits, nutrient-packed smoothie bowls, and home-cooked meals. We still look at ingredient lists, we prefer foods without numbers and colours. BUT again, every now and then if that's all we have access to, or if we're in a rush and need a quick snack, we won't lose sleep over eating a snack bar that is not 100% natural.
As we've gone through this journey we've also begun to appreciate the way food is prepared and cooked. Having an Italian partner will do this to you, the way they do food in Italy is different to Australia (and America and the UK).
They have a more traditional approach to foods, one big example is to look at the ingredient list of Italian prosciutto compared to Australian-made prosciutto. The Italian variety has pork and salt, that is it!
The Australian variety has sugar, dextrose, numbers, colours antioxidants and more! Why? My only assumption is that they are trying to get it consumer ready faster… they care more about saving money and profits than the finished product. They care more about profits than the customer experience. In this case, I fully understand why the Italians don't want Australians to be calling their prosciutto, prosciutto! The Greeks don't want Australians to be calling Fetta, Fetta. When you think about it, they're completely different products.
I'm convinced that creating a healthier relationship with food along with understanding how our food is produced, not only benefits our personal wellbeing but also positively impacts the health of our society as a whole.
And now I'll leave you with a brand new recipe. As you know, we're Yoga and Pilates teachers and wannabe Italian food bloggers (haha) kidding. It just so happens that all our most recent recipes are Italiano, like this lemon and ricotta cake, tiramisu and carbonara.
I'll be honest, the only pasta dish I've made for Damiano is this Easy Ragù Recipe, it's a fun dish to make. I prefer the slow-cooking style pasta recipes, they're less stressful, especially when you compare them to recipes like Cacio e Pepe, Bucatini all'Amatriciana and Carbonara. I'll leave those for Damiano!
Always merrymaking,
Emma (+ Carla)
Ps. To create an even more delicious dinner, make your pasta from scratch! It's fun and extra delicious!
Easy Italian Ragu
STUFF YOU NEED
1

carrot

chopped finely

2

celery stalks

chopped finely

1

small onion

chopped finely

olive oil

for the pan

250

g

ground beef  (8.8 oz)

250

g

ground pork  (8.8 oz)

250

g

passata (8.8 oz)

1

tbsp

tomato paste

1

cup

red wine (250 ml)

1

cup

beef stock (250 ml)

salt and pepper

pasta, usually 80-120g per person

parmesan cheese

be generous!
NOW WHAT
For the ragu
Dice the carrot, onion, and celery finely. In a large frying pan on medium heat, add a little olive oil, then add the carrot, onion and celery, saute slowly until softened. (This is called a Soffrito)

On medium-high heat, Add the ground beef and pork, stir and cook until brown.

Add the red wine, cook until the wine has reduced.

Add the passata, tomato paste and beef stock, along with a little salt and pepper. Give it a stir. It should start bubbling.

Reduce heat to low, pop on the lid and cook for 4 or so hours.

Check the ragu periodically and give it a little stir. Enjoy the beautiful aromas that will fill your home!

Once you're ready to eat, cook your pasta in salted water as per the packet instructions, Damiano would always suggest doing a minute of 2 less to ensure it is Al Dente!

Stir your drained pasta into the ragu, plate it up and top with grated parmesan.
MERRYMAKER TIP
Freeze your leftover ragu, future you will thank you!