More and more people are enjoying at home fitness. Firstly out of necessity but now it is a choice. This is why we love mat Pilates, because all you need is some space, a Yoga mat (if you have one), an online Pilates class by a great Pilates instructor, and there you have it. You've got an amazing full body workout with Pilates at home! The best part, you'll enjoy it!
But of course, there are many options as to where you can practise Pilates.
What Is Pilates?
Pilates was invented by Joseph Pilates back in the early 20th century, however it continues to gain more attention and popularity as the years go on.
We've taken this definition by Very Well Fit.
Pilates is a system of repetitive exercises performed on a mat or other equipment to promote strength, stability, and flexibility.
We've practiced Pilates for many years and we can vouch for all these results!
Pilates connects movement to breath. When you do your Pilates exercises, you'll notice the exhale is done on the highest effort of the movement.
For example, in a simple abdominal crunch, you'd inhale to prepare, exhale to crunch, then inhale to lower and so on. As you practise you'll notice how it helps you move through Pilates moves with more flow.
This is why Pilates also creates a mind body connection. Whether you're doing 45 minutes of Pilates or just a quick 10 minute session, you must be focused and present with the movement. This is why a Pilates practice also doubles up as a mindful practice, it's so good for your mental health too!
What Kind of Results Will I Get?
We wrote in depth about all the amazing benefits you can experience over here. But because everyone loves a list, here are just some of the results you may experience from Pilates:
Better posture

More strength and flexibility

More mobility

Increased core strength

Better pelvic floor health

More energised

Releases feel good hormones, feel happier!

Reduce stress and anxiety

Improve balance and stability

Improve cardio health and fitness levels

More confidence
Really, the list could go on! And the thing with creating a consistent Pilates practice is that the positive benefits flow onto all other aspects of life. From relationships to work to social life. In our opinions, a regular Pilates routine has the potential to add so much to your life!
What Type Of Pilates is Right For Me?
There are many different styles and evolutions of Pilates, there's Classical, Mat Pilates, Barre fitness, Reformer Pilates, Clinical and Fusion.
Our preference is Pilates mat classes along with Barre Fitness classes, and this is what we teach inside our Online Pilates and Yoga Studio.
We love these styles because they're just so accessible, all you need is your amazing body, some space, a Yoga mat and then hit play on one of our classes! We also think they're more fun than the Classical style, but shhh don't tell the Pilates traditionalists.
We truly believe that 'joy' is key to creating an exercise regime that sticks.
For far too long we worked out as a form of punishment. Can you relate to any of these?
We'd slog away on the treadmill to burn those 'naughty weekend calories'.
We'd continually go on crazy exercise programs and diets to lose weight. We felt so restricted as we were always at the gym and worried about our next meal.
We'd feel extreme guilt if we skipped a workout.
Often we'd feel a lot of dread leading up to the workout, because we didn't enjoy the exercise!
We'd be so strict during the week, with diet and exercise, only to binge over the weekend and then start all over again on Monday.
It was a vicious and negative cycle. We may have looked great on the outside but the internal narrative and constant self-criticism were ugly.
The ongoing stress and anxiety about working out and what we were going to eat was life-consuming.
This is why it's important to enjoy your workouts, and this is also why we connect our Pilates practice with Self-Acceptance, but that's another article to read.
Where Can I Do Pilates?
There are so many different kinds of Pilates Studios to choose from, depending on where you live and also your budget.
You'll most likely find that local gyms or women health clubs have a few Pilates classes on their group class schedule.
But if you're living in a city centre you'll definitely find several Pilates Studios. Usually, they will specialise in a specific style. A great thing about doing a class at a studio is that they'll usually have all the equipment you need like, Pilates rings, hand weights, balls and more.
One thing to keep in mind is that Pilates classes can be rather expensive, a reformer class can cost up to $40 a class and can be up to an hour long. If this doesn't suit you, then we'd suggest trying an online variety of Pilates. This way it's more cost-effective and you can easily weave it into your busy schedule.
It's also important to remember that you actually don't need any equipment to experience the benefits of Pilates. With your own body weight and focus on technique, you will enjoy a workout that will lead to many amazing results!
The Best Home Workout
Pilates is truly one of the best forms of exercise to do at home, you don't need to be a certified personal trainer to create your own at home workout. There are an abundance of online Pilates sessions to try that will help you build core strength, improve your posture and welcome in more health and happiness.
The key is to simply start. Choose your own adventure, from traditional style, to a class that focuses on strength training, to fitness Pilates, where you'll get hot and sweaty!
We have a bunch of free Pilates classes on YouTube, from more advanced to beginner Pilates classes, take your pick! But the best place to start your home Pilates practice is with this free class!
You can sign up here for instant access.
We will send the class straight to your inbox. It's a 20 minute mat based Pilates class called Feel amazing Pilates. You'll work a variety of muscle groups, the side body, the booty and of course the core, you will feel amazing after you do this class!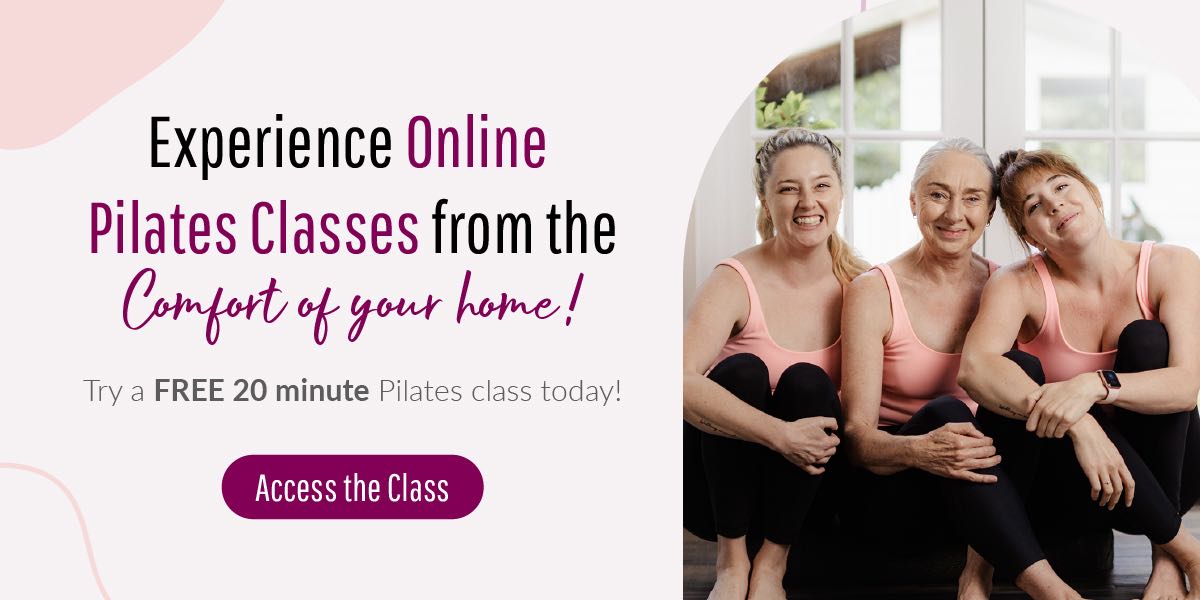 If you do the class let us know, we'd love to hear about it!
Always merrymaking,
Emma + Carla
Reminder, if you are recovering from any injury and using Pilates as treatment, make sure to seek medical advice, diagnosis, or treatment from your doctor before starting your Pilates journey. You can do Pilates every day if you like, but it's essential to workout in a safe way.