The best part about Valentine's Day starts with a 'c' and ends with 'late' and NO it ain't a date! It's… C-HOCO-LATE!
Delicious, droolworthy, melt in mouth, chocolatey, healthy goodness.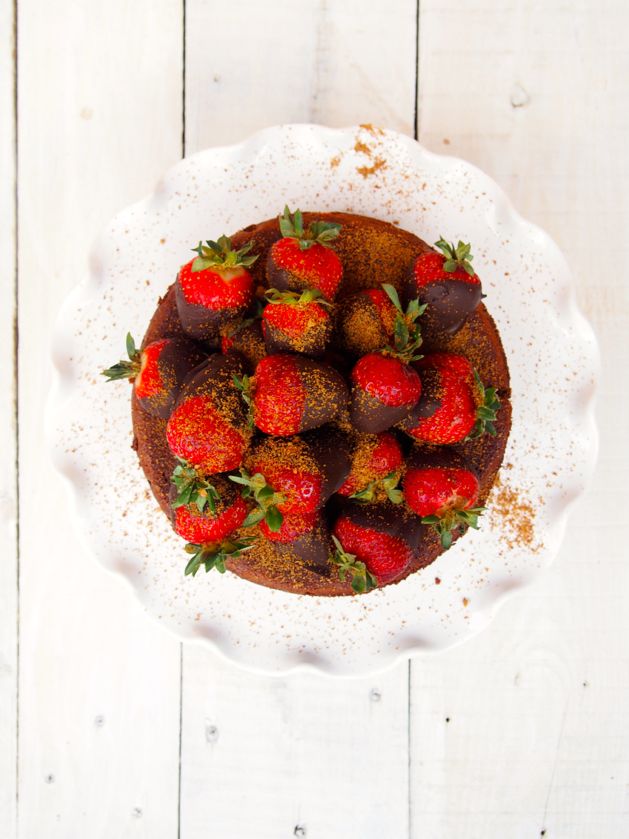 And when it's our Low Fructose Gluten Free Chocolate Cake topped with chocolate coated strawberries… love really is in the air! Because we seriously LOVE this cake.
Gosh we're coming out with all the lines today!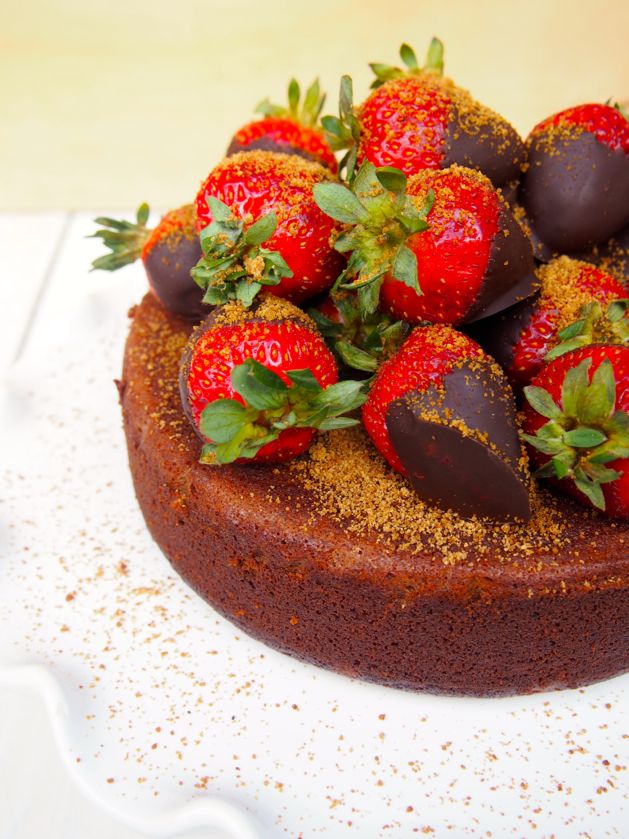 We don't recommend you eat the whole thing. Like you can if you want because… Valentine's Day and all but maybe share it with a lover… or a bestie… or a sister!
Because sharing is caring and caring is… LOVING!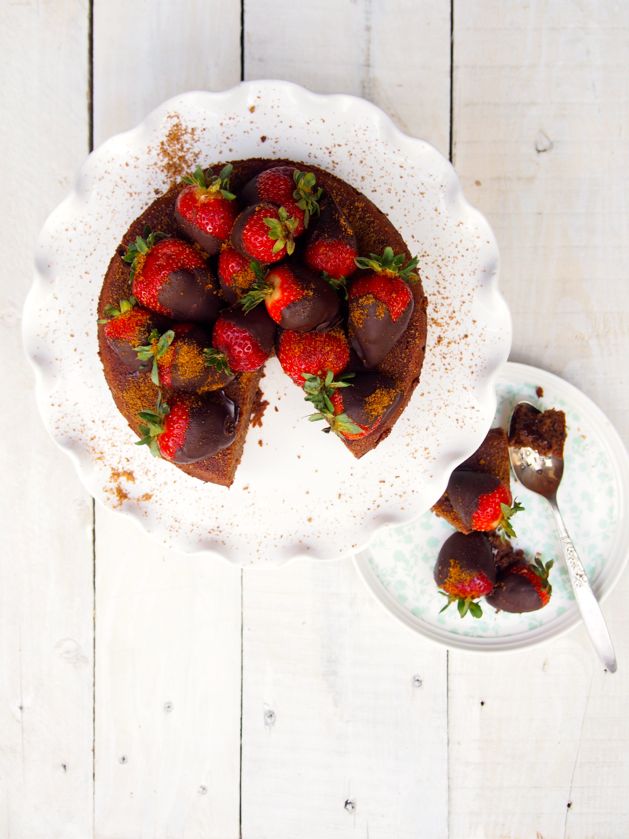 Some other recipes you could make for Valentine's Day…
Choc Raspberry Raw Cake
Choc Raspberry Ganache Cake
Sweetener Free Chocolate Brownies
Top Deck Chocolate
Choc Caramel Slice
Choc Peanut Butter Slice
Choc vanilla mousse cups
We told you we loved chocolate! 😀
Yay!
Always merrymaking,
Emma + Carla
p.s we LOVE you! Like a lot a lot!

Low Fructose Gluten Free Chocolate Cake for Valentines Day!
2016-02-11 04:40:15
Serves 14
Stuff you need
2 cups blanched almond meal
1 cup coconut milk (canned)
1/2 cup butter (approx. 100g/3.5 oz.)
1/2 cup rice malt syrup (or natural sweetener of choice)
1/4 cup raw cacao powder
4 eggs
1 tsp. baking powder (gluten free)
1 tsp. 100% vanilla extract
For the toppings
1 punnet of fresh strawberries
sugar free chocolate (approx 100g or 3.5 oz)
1 tbs. coconut sugar (optional... not low fructose!)
NOW WHAT
Preheat oven to 180°C (350°F) and line a 18 cm (7 inch) spring form cake tin with baking paper.
In a large bowl combine the almond meal, cacao and baking powder.
In a blender or mix master, beat the butter and rice malt syrup together.
Add the eggs, vanilla, coconut milk and mix well. (Don't worry if it looks a little 'curdled').
Pour this into the large bowl with the dry ingredients and gently mix together.
Transfer into the lined tin and bake for 40 minutes or until lightly brown.
Allow the cake to cool completely before topping with choc dipped strawberries and a sprinkle of coconut sugar!
For the toppings
Line a tray with baking paper.
Using a double boiler or saucepan, add about 3 cms (1 inch) of water and simmer.
Place chocolate in a heat proof bowl or top of double boiler and place on top of the saucepan to slowly melt the chocolate. Stir slowly.
Once melted, carefully dip the strawberries into chocolate and place onto prepared tray.
Once all the strawberries are dipped or all the choccy is used place the tray into the fridge to set!
Merrymaker tip
Don't want to do the choc dip strawberry thing? Drizzle the whole cake in paleo chocolate (link below) and top with strawberries... because YUM!
Merrymaker Sisters | MerryBody Online Studio: Unlimited Yoga, Pilates and Meditation https://themerrymakersisters.com/
Here's the recipe to make your own healthy
Paleo Chocolate
!