It's the perfect reason to get your healthy sweet treat bake on… lockdown (or self-isolation). Also, we just interviewed David Norris on cognitive fitness and cooking new recipes was on the list of things to do to reduce your chance of getting dementia!
Now that is a good reason to be cooking these 10 healthy sweet treat recipes.
We have about 600+ recipes on the site and the Get Merry Recipe App (which you can download HERE). That image above of our sugar free jam doughnuts is an app exclusive recipes. The app is worth it just for that recipe!
These are just 1o of our favourite and totally drool-worthy dessert recipes, all refined sugar free, dairy free, gluten free and grain free!
Salted caramel chocolate tart
Quite possibly our most favourite recipe ever. It's a show stopper if you're really in the mood to cook THIS is your go-to recipe. GET IT HERE.
Low carb peanut butter chocolate cups
If you're not really in the mood to cook but you really do have a craving for something a little sweet, this recipe has your name all over it. It's SO EASY checkout the recipe over here.

Vanilla cupcakes with salted caramel frosting
You can see already we do have a slight obsession with salted caramel… for good reason! This recipe is so good, feel free to swap up the icing to whatever floats your boat. Grab the recipe HERE.
East keto cookies with chocolate frosting
When we first created this recipe we then went on to make them about 10 more times… so you know this is a good recipe! Go and check it out and see if you have all the ingredients.
Macadamia and cinnamon cookies
You really can't beat a cookie… and with a combo like macadamia and cinnamon, you are WINNING! Get the easy peasy recipe HERE!
Apple blueberry crumble
Sweetener free and grain free and gluten free crumbles are our favourite! Mix and match the fruit and go-to healthy sweet treat heaven. Best served with dairy free, sugar free ice cream (in our opinions). Get the recipe HERE!
Gluten free blueberry almond muffins
Ohhhhhh we forgot how good this recipe is! And how good does that frosting look! Gran the recipe HERE!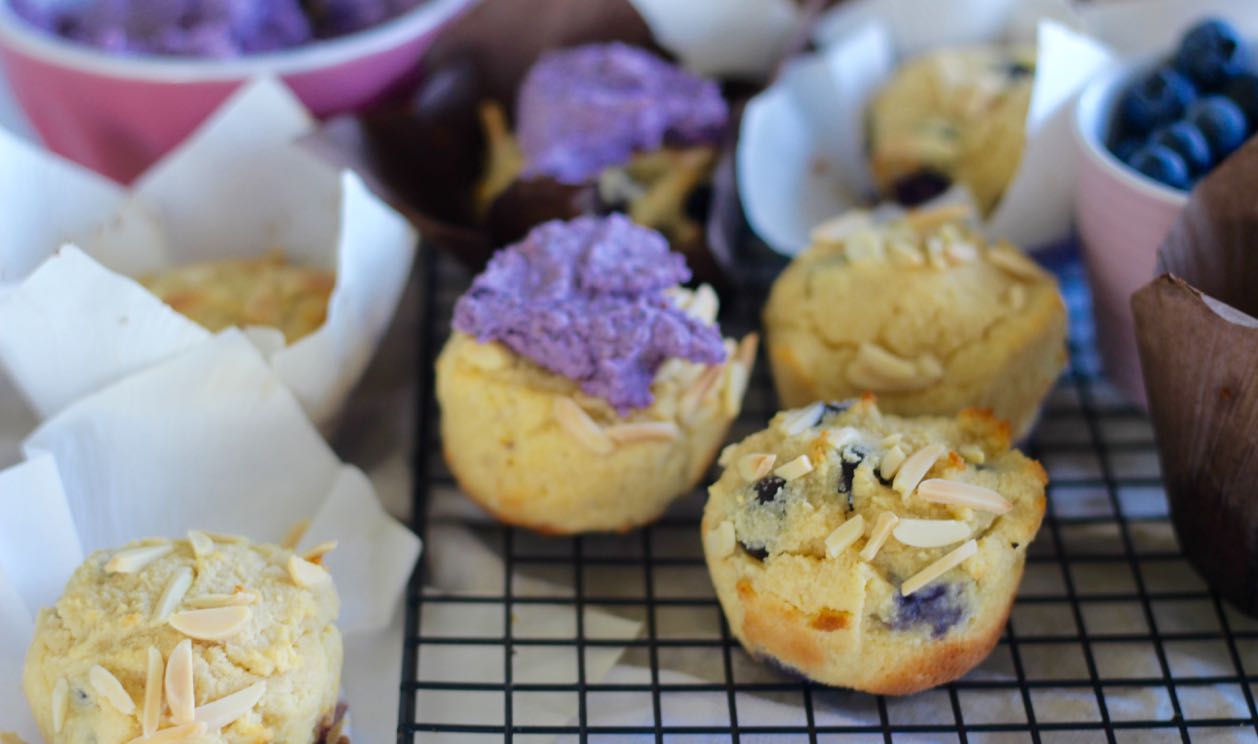 Healthy pancakes
YES! This is a must! You just must choose from one of THESE epic recipes. So bloody yum.

Grain free scones with sugar free jam
Ohhhh how we love scones with jam and cream, not only so cute and pretty also extremely yum. Also, yes eat them with cream (drooool!). Grab the recipe HERE!
Gluten free choc chip pizookie
It's a giant choc chip cookie and it's all kinds of DELICIOUS! You should definitely try this recipe. Find it over HERE.
If you'd like ALL our recipes at your fingertips be sure to download our recipe app.
"This app makes life a little more magical and whole lot more delicious. As the bright and bubble Merrymaker Sisters say, a happy, healthy life is all about the little things. Life is a collection of small moments strung together that add up to a pretty great life. This app is an embodiment of this attitude."
Miranda. E (a happy app user)