Anything is fritter form is pretty much the best. Fritters have got to be the most fun way to enjoy vegetables.
We have a feeling you will love these 6 easy healthy fritter recipes.
Grated veggies mixed with delish stuff like eggs, cheese, bacon, and/or herbs… then fried in butter or coconut oil. Ummm… yes please!
Super easy sweet potato fritters.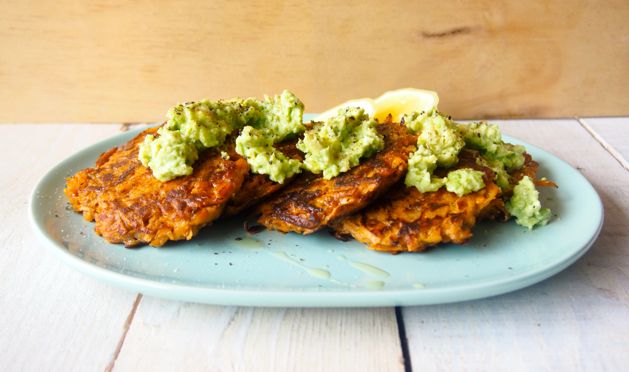 One of the most popular recipes on the site! They only have 4 ingredients in them! Boom, easy peasy. Grab the recipe here!
Pumpkin, carrot and bacon fritters.
Such a winning food combo. Well, anything with bacon in it usually is! Get the recipe over here.
Sweet potato and feta fritters.

If you're looking for a new healthy breakfast recipe these sweet potato and feta fritters are for you. They're so easy to make, they require minimal ingredients and they're just bloody yum! Get the recipe HERE!
Low carb zucchini fritters.
Ahhh we could not believe how delish these were! Seriously, double the batch when you make them! Check out the recipe.
Pumpkin hash browns.
Ok, they're not actually a fritter but whatever they are, they're yum and fun and everyone will love. Find the recipe here!
Zucchini and carrot fritters.
These fritters are part of the vegetarian recipe bundle on the app! How good! f you have the app, open up the bundle section. If you've never heard of the app before, get all the info you need over HERE. ALL our recipes get added there PLUS there are exclusive app-only recipes.

If you make any of these 5 easy healthy fritter recipes let us know, we'd love to hear from you. Find us on Instagram @themerrymakersisters and Facebook.
Always merrymaking,
Emma + Carla