It's that time of year! Time for our Merrymaker Christmas recipe round up. And this time we collected 22 of our all-time favourite healthy Christmas sweet treat recipes. Lot's of new ones too!
Many of these recipes are extra special recipes only found on the Get Merry app. The good news, no the GREAT news is that the app is now only $4.49AUD (was $7.99!).
You'll not only get access to the 100+ app exclusive recipes you'll also get another 400 of our BEST blog recipes too. And we add new recipes to the app every week!
Don't miss out on the Christmas special!
DOWNLOAD THE APP NOW (CLICK HERE)!
Refined sugar-free, grain free, gluten free chocolate pudding.
Ohhhkay this chocolate pudding is the ultimate Christmas sweet treat! If you have a bunch of people who don't like fruit pudding but you still want to serve a Christmassy looking dessert, this recipe is the one for you! Get it NOW!
Gingerbread slice with salted caramel butter frosting.
Ummmm drool town! This is officially our fave treat of the holiday season. It needs to be on your dessert buffet this Christmas. Get the recipe right HERE!
Gluten free, refined sugar free Christmas cake.
Actually, all the healthy Christmas sweet treats are gluten free, grain free, refined sugar and most dairy free. Well, all our recipes are! But yes, if you love fruitcake this is a must make this year! Get the easy Christmas fruit cake recipe over here.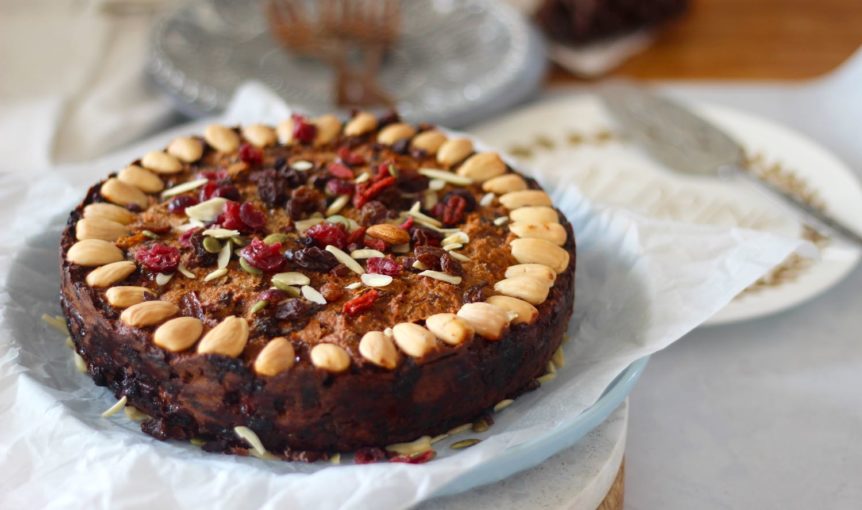 Christmas tree brownies.
They are just so cute! Perfect if you have lots of kiddies at your Christmas celebration. Get the super fun and super cute recipe HERE.
Christmas pudding.
Ohhh we didn't even know we liked Xmas pudding until our Mum made this delicious health Christmas pudding! It was the star of last years Christmas dessert! And yes, served with Caramel sauce. This is a very special Get Merry app exclusive recipe. If you have the app, open the sweet treat section or you can download the app HERE!
And don't forget ALL of these recipes can be found on the Get Merry recipe app (with over 100 exclusive recipes you can only find on the app!).
The best part… it's on sale now for Christmas! Just $2.99 (usually $7.99!). DOWNLOAD THE GET MERRY APP NOW!

Paleo sticky date pudding.
Another recipe made by Mum! Probably one of her best! Serve it with sugar free coconut ice cream and everyone will love you forever! Get the healthy Christmas recipe HERE!
Refined sugar free, gluten free gingerbread house.
Yes, you can make a healthier gingerbread house! We did this last year and could not get over how good it turned out! It even has healthy royal icing! Get the recipe HERE!
Custard fruit tart recipe.
The perfect addition to your Summer Christmas dessert buffet! Another EPIC app exclusive recipe (yes there about 100 extra awesome recipes on the Get Merry app). Download it TODAY!
Raw peanut butter, choc, hemp tart.
Another delish raw dessert we know you'll love! Plus! Hello, chocolate… and yes keep scrolling because you will find more Chocolate Christmas desserts. get the hemp tart recipe NOW!

Choc pumpkin cheesecake.
Not dairy free, it's filled with cheese and it's amazing! Again, these treats are perfect for a Summery Aussie Christmas. Get it now!
Choc mint slice.
Move over unhealthy sugary candy canes! This healthy choc mint slice is a much better option in our opinions! Get the easy peasy recipe over HERE.
Basic 5 ingredient biscuits.
We know these look kinda boring for a Christmas treat… but it's all in the decorating! Top with Christmas themed frosting or even make these with the kids to leave for Santa on Christmas eve. Get the delicious EASY as recipe here.
Healthy melting moments.
These are just so cute! And go perfectly with Christmas tea and coffee. MAke a batch in the lead up for Xmas for those surprise drop-ins (they always happen this time of year!). Get the recipe HERE.
Christmas bliss balls.
If you're making a variety of Christmas treats this year, these Xmas bliss balls are a must! They are so cute and they make a great edible gift, simply serve on a pretty plate! This recipe is part of our special Christmas treat app bundle! Get the app today!
Fruit mince pies.
AAnother recipe made by our Mum! We put this recipe in the too hard basket and gave it to mum to make but n fact it's quite an easy recipe! And yes, even the pastry is refined sugar free and grain free and gluten free! Get the recipe NOW!
Peanut butter shortbread cookies.
Oh, we forgot about this recipe! It's another app only recipe (there are so many!). Download the app HERE!
Super healthy gingerbread cookies
It wouldn't be Christmas without these easy healthy gingerbread cookies! Grab the recipe here!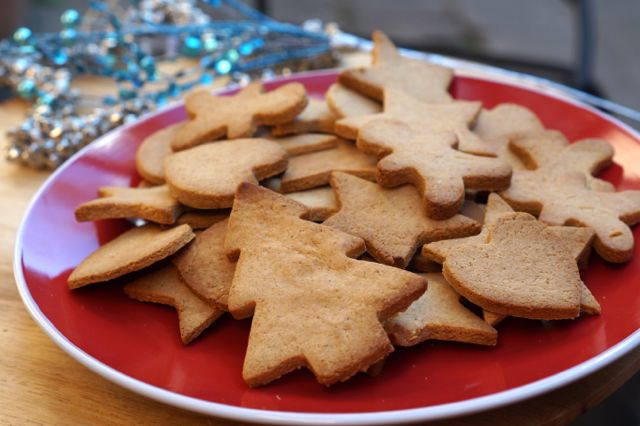 Bounty slice
If you loved Bounty bars you will love this healthy version! So easy to make as well. Perfect for the dessert buffet. Get the recipe HERE.
Upside down apricot cake.
This is a perfect summer sweet treat (so obviously great for Southern Hemisphere-ers!). Also, a great option if you're not a chocolate fan or an Xmas fruit cake fan! So yum and looks so pretty. Get the recipe right HERE.
Healthy black forest cake.
Seriously impressive! Perfect for cherry season (or use frozen ones!). This recipe does use actual cream and far out cream is the most delicious thing in the universe. Grab the easy peasy delicious recipe right HERE!
Healthy Christmas shortbread.
Haha ok, it's just regular shortbread… but shortbread is everywhere at Christmas time! Make your shortbread healthier by using our special Get Merry app recipe! For a limited time, it's on sale for just $2.99 (AUD). Download it HERE!
White Christmas.
This is one of our oldest Christmas recipes. So yummy and looks so Christmassy with the green pistachio nuts and juicy red cranberries! Grab the recipe HERE!
If you make any of our healthy Christmas sweet treats let us know! Share a picture of your Chirstmas dessert on Insatgram or facebook. We LOVE seeing them!
Always Merrymaking,
Emma + Carla
P.s Don't forget the app is on sale for Christmas, instead of $7.99 it's just $2.99! You save $5! The app is a one-off payment, no subscriptions, with optional unlockable bundles! <3 You'll love it, promise! Download for Android and iPhone HERE.