Did you know that during 2015 we shared over 180 blog posts? Holey moley. That's a lot. Wonder how many words that is? Probably like a million.
We've had over 2.5 MILLION page views this year. Woha… you guys like merrymaker recipes! Yay! So do we!
And to make your life super easy we've put together our top 10 Merrymaker Recipes of 2015! We know why they're the top too… just take a scroll… can you say DROOL?!
Number 1: Paleo Salted Choc Caramel Slice (duh!).
Seriously. This recipe must have been shared like a gazillion times! Super quick and easy to make and a definite crowd pleaser. If you haven't made it ever before, get on the Paleo Salted Choc Caramel Slice train! We had to ban it in Merrymaker Land. Oops!
Number 2: Paleo De-snicker-licious Cake!
A day doesn't go by where someone doesn't share a version of our Paleo Snickers Cake on social media! Seriously we LOVE seeing them and re-sharing them! Epic cake. Tick!
Number 3: Low Fructose Salted Caramel Slice (you guys love caramel… yes?).
Boom! And they said Low Fructose Salted Caramel Slice couldn't be done!
Number 4: Sugar Free, Grain Free, Gluten Free, Sweetener Free Carrot Cake (true story!).
Yes. Yum. Get. In. Our. Bellies. You gotta make this Carrot Cake and go to carrot cake heaven… even if just for a little while.
Number 5: Paleo Banana Bread.
We knew this would make the BEST ever list. It really is the best ever Paleo Banana Bread! Promise!
Number 6: Paleo Raw Salted Caramel Cake.
What is it with salt and caramel? All we know is that when we put them together in the same sentence… BOOM! You'll love this Paleo Raw Salted Caramel Cake!
Number 7: Paleo Jelly Lollies, for real.
Would you believe us if we told you these were actually really really ridiculously good for you? Seriously. Paleo Lollies #ftw!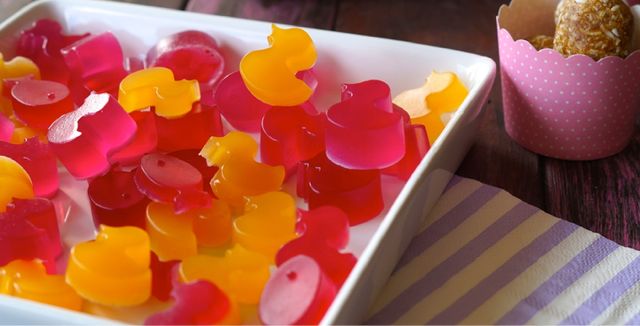 Number 8: Paleo Savoury Bread… because yum.
The one and only savoury recipe to make the list… it's a goody! Our Paleo Savoury Bread loaf is a weekly staple in Merrymaker Land!
Number 9: Good Fat Cake. It's cake and it's good and it's fat.
Only filled with good fats, this cake is epic! No sweetener, gluten or grains… just super YUM! Good Fat Cake!
Number 10: The Easiest Chocolate Ever
No double boiler or melting required. You need a blender, coconut oil, nut butter and cacao. That's it. HEALTHY CHOCOLATE!
Turns out… you Merrymakers LOVE your healthy, paleo sweet treats! Yay! Also turns out that we ate A LOT of cake this year. Do you have a recipe you'd like us to make for 2016? Leave us a comment and we'll add it to our 'to make' list!
Always merrymaking,
Emma + Carla