We have a feeling, after reading this you'll be excited to get to your first (or next) Pilates class! There are many types of Pilates classes to try, from Reformer Pilates to mat classes. Fast paced, high intensity style to slow and controlled Classical Pilates. Whatever your fitness level, Pilates exercises will bring you many health benefits. It really is one of the best forms of exercise out there!
If you're new to the practice, you might be wondering which style of Pilates workout is best for you? Maybe you're wondering, what is Pilates?
The Pilates Principles
Pilates was created by Joseph Pilates back in the early 20th century, he developed the Pilates Principles to help practitioners gain further understanding of the movement.
These six principles include concentration, control, centre, flow, precision and breath.
Upon first glance, it does give you a little insight into this practice. That the exercise is performed with a sense of control and focus. That it is connected to the breath and therefore also creates mind body connection.
You can read more details about these over here.
Benefits of Pilates
Pilates is an amazing full body workout, it targets all muscle groups and a consistent practice has the potential to make a huge positive impact on your life. No matter your fitness goals, Pilates will help you reach them.
Pilates Can Help to Increase Strength and Flexibility
Pilates movements work so effectively because the focus between strength and stretch is balanced. This is done by using body weight and resistance, equipment like small hand weights, bands and the magic circle. And of course the Reformer machine.
The amazing thing is you actually don't need to use this equipment, in our classes we simply use our body weight (sometimes hand weights). If you're ready to try one of our Pilates classes, you can access THIS class right now!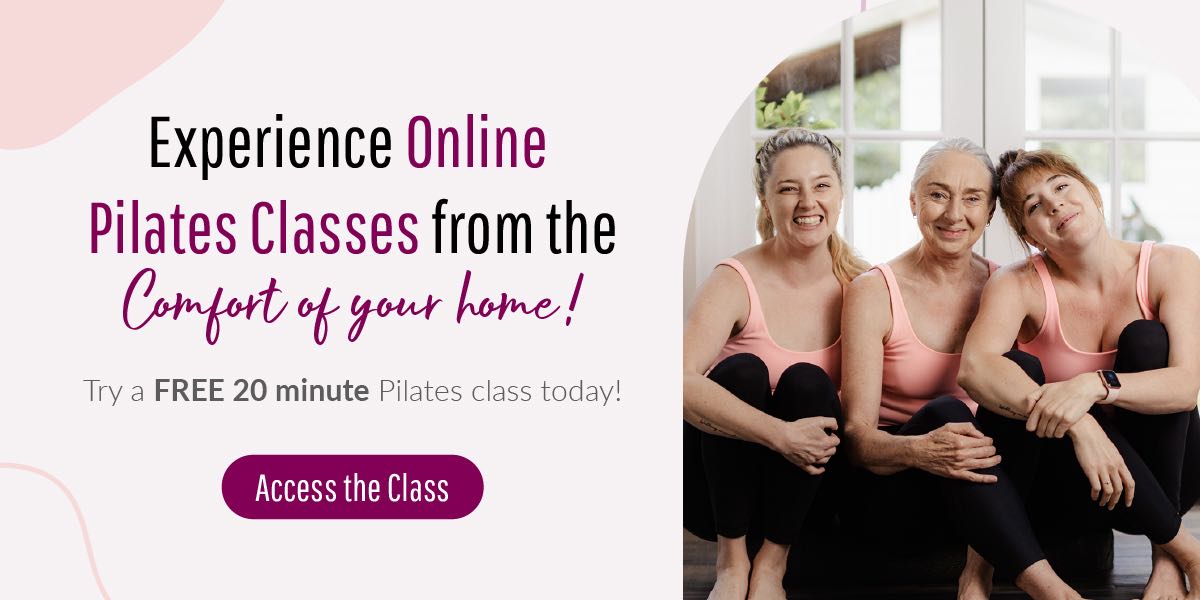 Pilates Can Increase Core Strength
Your abs will really feel it during every Pilates class. No matter the move, your core muscles are getting a great workout.
We already mentioned the control and precision principles of Pilates, these factors really require you to engage your core resulting in an extremely effective workout.
Pilates Promotes Better Posture
Another result of a strong core is that you'll also be improving postural alignment.
The core stabilises the spine and helps you stand and move with ease and proper posture. This will also prevent back pain and injury!
These are just scraping the edges! Read more about the benefits of Pilates over here!
The Best Pilates Class for You
There are a few things to factor in when finding the perfect Pilates class for you. It's time to think about how much free time you have, your budget and your location.
If you live in a major city you'll find many studio locations, where we live it feels like there is a Pilates Studio on every corner! Each studio has its differences, some run larger group classes, some use no equipment, some use Pilates Reformer machines.
In general, the smaller group classes and the classes that use more specialised Pilates apparatus and equipment will cost more money per class.
Here on the Gold Coast, Australia, a Reformer class averages around $25-$35. This is why it's important to consider your budget, and if you are budget conscious, an online Pilates class might be the right class for you!
This is where we tell you about our MerryBody Yoga and Pilates App. As a Pilates Instructor and Yoga Instructor, we feel excited to create a more cost-effective option (from less than $1 per day!). Not to mention a more accessible Pilates option for everyone.
No matter where you live, you can access our premium filmed, industry leading classes. We focus on mat work so all you need is some space, a mat and an internet connection (actually you can even download for offline use during travel and bad internet days!).
Another reason why we love at home Pilates is that you can wear what you want. At a studio we'd recommend wearing form fitting clothing, think yoga tights and crops but at home you can wear your favourite baggy shorts. Our members have even been known to roll out of bed and press play on a class in their Pjs! We are all for pyjama Pilates!
We also like to think of ourselves as an Online Studio with real life studio connection. It's not like a sign up and see ya later scenario like other fitness apps. The community is next level supportive and we are available for you, whatever your question, we are here to help!
If you'd like to try out our Pilates and Yoga Classes a great place to start is with our 5 Day Challenge. It's free to join and you'll get a class sent to your inbox right away. You can join right here!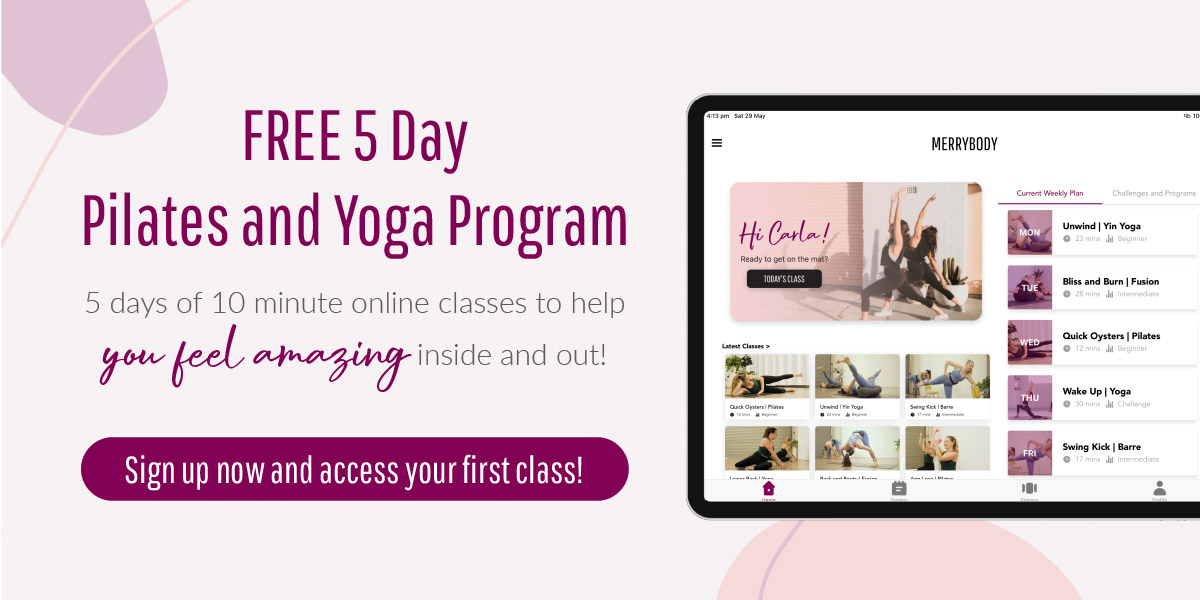 Here's a video of us talking about the Challenge!
Always merrymaking,
Emma + Carla