We have so many healthy and easy cookie recipes available. They might just be the best healthy sweet treat to make. They're so easy. They help you with portion control and there are so many varieties!
Check out the list of 20 easy cookie recipes and get baking! Maybe you can try out all the recipes. Now that is a great idea!
Healthy breakfast cookies
These breakfast cookies are so good! The perfect healthy breakfast you can prepare on the weekend and enjoy through the week. The recipe is right here.
Half half cookies
Oh, my cookies! We made delicious half half cookies. If you don't know what they are (don't worry, we didn't know they were a thing until we made these) they're just chocolate vanilla cookies. Get the recipe here
Egg free healthy chocolate chip cookies
We made these egg free chocolate chip cookies using flaxseed and woweeee they are yum! The recipe is here!
Low fructose paleo choc macadamia cookies
Hello low fructose paleo choc macadamia cookies! You're so crunchy and delicious looking! We think we're gonna have to make a double batch next time, you're just too good. Get the easy peasy recipe here!
Gluten free, low fructose choc chip cookies
Choc chip cookies are pretty much the queen of all the cookies. These are gluten free, low fructose choc chip cookies and they're going to blow your mind! Recipe over here!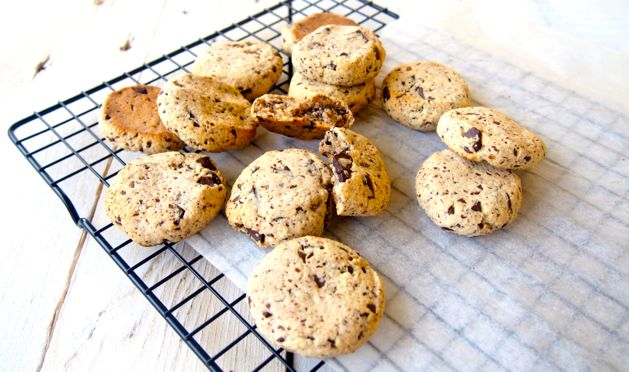 Easy healthy carrot and ginger cookies
Huge YAY for these easy healthy carrot and ginger cookies! Seriously easy to make and seriously delicious! It really turns out you don't even need to add the sweetener! Plus we're definitely feeling benefits from the lack of sweetener! Get the recipe here!
Paleo chunky nut cookies
These paleo chunky nut cookies have been approved by merrymaker dad which means… they must be good (he is a tough critic!). So easy and oh so yum! We recommend drizzling them in some of our paleo chocolate, this adds extra delish factor and also makes them look pretty! Recipe is over here!
Paleo gingerbread cookies
Yes, they're for Christmas but oh so tasty. Good all year round! This recipe is oh so easy.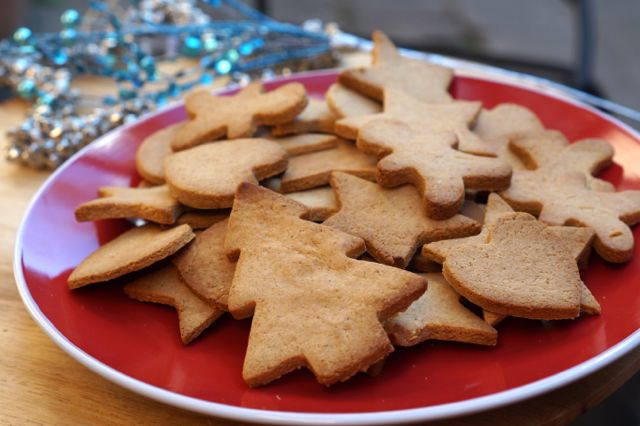 Paleo cookies with macadamia nuts
We have forever been searching for the perfect paleo cookies. Several faileos (too hard, tastes like cardboard, crumbles + falls apart = gross) later, here it is! We like ours soft + chewy but if you bake them a little longer they will go crunchy. Hooray! Recipe is here!
5 ingredient basic biscuits recipe
You are gonna love this 5 ingredients basic biscuit recipe. The recipe is gluten free, grain free, refined sugar-free but absolutely delicious! Oh, and these biccies are mega easy to whip up. Hello, 5 ingredients! Get the recipe here!
Koulourakia (Greek Easter Biscuits)
The Koulourakia might not taste exactly like Yia yia's BUT they don't have any refined sugar, they're gluten free and grain free! They're just as delicious, just a little different delicious to the traditional recipe.
Kingston biscuits
Yeah, we did it. And it was a complete accident too! We made gluten-free and refined sugar-free Kingston biscuits! Heck to the yeah yeah. Boom shake the room. Grab the recipe here!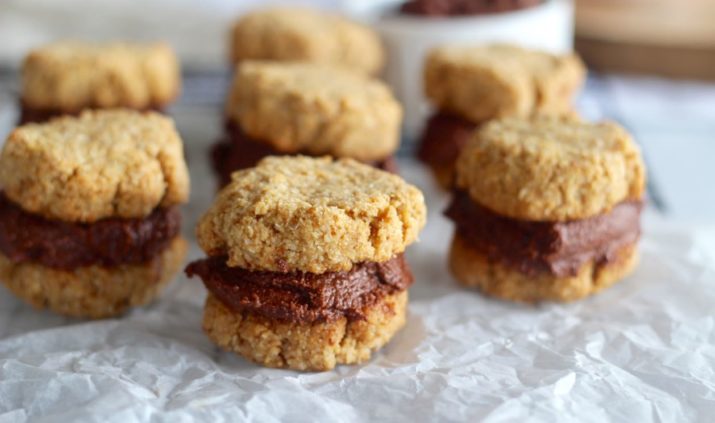 Paleo Greek almond biscuits
These Greek biccies are so so delish! Such an easy peasy recipe too! Recipe is over here!
Easy paleo ANZAC biscuit recipe
Another easy recipe, the perfect healthier alternative to the traditional recipe. Recipe over here.
Healthy wagon wheels recipe
HELLO gluten-free, sugar-free and vegan wagon wheels. Yep, healthy WAGON WHEELS! All caps required because this is very VERY exciting. WE MADE HEALTHY WAGON WHEELS! Recipe is here!
Brownie cookies with peanut butter frosting
This might be one of our all time favourite cookies recipes. You really can't beat a combo like choc and PB! This recipe is a special app only recipe. If you have the Get Merry app open up the Sweet Treat section if you don't have the app… it's worth the purchase for this recipe alone! Learn more about the Get Merry recipe app HERE!
Peanut butter cookies
Another amazing and easy healthy recipe on the Get Merry app. There are close to 100 exclusive app only recipes. If you're looking for convenience the app is for you!
Caramel pecan cookies
Yes, we had a huge phase of adding cookie recipes to the app! But for good reason! Of all the healthy sweet treat rcipes cookies are (almost) always fail proof! Plus they are perfect for potion control. So many reasons to try every single one of these cookie recipes!
Giant choc chip cookie recipe
Of course, we've made a giant cookie! This recipe is so much fun. Guaranteed to make your guests happy! This recipe from our Get Merrcookbookok (you can get your copy here). But it's also available on the blog here.
Raw keto cookie dough bites
Ok, not really cookies! But they are 'cookie dough' so we reckon they still count! These little bites are so freaking yum. Plus if you're on a low carb diet they are oh so perfect for you! Grab the recipe right HERE!
Oh and also… if you're after the feature image recipe! Yes… those delish gluten free, grain free, refined sugar free melting moments. Get the recipe over here! And yes now we are up to 21 amazing, easy and delicious healthy cookie recipes.
If you make any, send us a pic! Share it on Instagram or Facebook!
Always merrymaking,
Emma + Carla