We love our mum soooooo much. We seriously won the Mum (and Dad) lottery… but because it's Mother's Day, let's focus on Mum! Sending out so many good vibes to our Mumma bear… and yours too! To celebrate all the amazing Mums out there, we've put together our all-time favourite recipes that are perfect for a Mother's Day high tea (or morning/afternoon tea… but c'mon… high tea is so much funner!).
Make 1, 2, 3, (all? Nah, probs too many to do all :P) of these recipes for your Mum and she will seriously love you forever and ever (ok, she already loves you… but we all know food wins).
If you still don't have any ideas on what to get your special Mum for Mother's Day, we've got you covered with an extra special bonus we're adding to all Get Merry book orders!
When you get a book, not only will we gift wrap it and confetti bomb it… we'll also add a special Mother's Day quote card (that says 'I won the mum lottery') and a beautiful rose quartz crystal to celebrate the love you have for your mum!
There are a few other cute gift packs too! Check them all out here and order ASAP so you don't miss out! Because there are only 200 bonus packs available! (Bonus included if ordered before 8 May 2017)
Ok, let's get to these healthy Mother's Day recipes… there's 25! Boom shake the room!
Scones, duh
Whether the savoury kind… like these ones with bacon and cheese… get the recipe yah!
Or more traditional sweet like these, (served with jam and REAL cream… because why not?) your Mum will love you even more for making her these healthy-as scones! Ooo you could make both types and that would be even more WOW!
Apple tea cake
OMG get outta town and get in my belly instead! This sugar free, gluten free apple tea cake is PERFECT for any healthy Mother's Day high tea.
The best brownies ever
If your Mum is a chocolate lover then you must MUST make her the best healthy brownies ever! She will probably love you a little bit more when she tastes these! Grab the recipe.
Gluten free cinnamon donuts
Donuts are so freaking IN right now…. so not your traditional high tea style but definitely a now kinda style. And we think your Mum will really love these healthy-as cinnamon donuts (we know ours did!).
Sweet potato toast/canapes
Yes yes yes, we will throw in some savoury recipes too… even though sweet wins! Make some sweet potato toast and top with yummy dips like our beetroot hummus!
Salted caramel macadamia tart
Seriously the best recipe in the whole entire world. This one is from our Get Merry book… and it's our all time favourite EVER. Just another excuse to grab our Mother's Day pack, right?!
Raw gaytime cake
Ok, so this recipe kinda went crazy when we shared it… so we reckon your Mum will also go crazy for it! So much yummy-ness in one cake. If you don't wanna make the raw gaytime cake then we have a whole list of our fave raw cakes right… HERE!
Baked pumpkin cheesecake
OMG YUM. You must make this and go to cheesecake heaven! Here's the recipe!
Raisin toast
Because no high tea is complete without it… the best bit is that you can gift your leftovers to your Mum and you will definitely go up on the favourites list 😛 Grab the recipe here!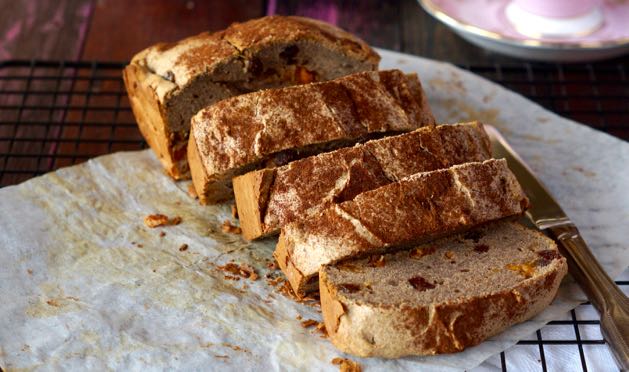 Custard tarts
Yaaaas for healthy, low fructose custard tarts. And you MUST make them mini because everything in miniature always tastes better and just looks so darn cute! Here's the recipe, get baking!
Foccacia bread
You could make yummy grain free, gluten free focaccia and top it with deliciousness like cheese and chives. OMG stop it. DON'T STOP! Maybe savoury wins after all?
Blueberry maple loaf
Can life get any better than blueberry loaf? We think not. Grab this recipe from our Get Merry book!
Lamingtons
Lamingtons shouldn't be saved for Australia Day only. You can enjoy a lamington WHENEVER YOU LIKE… especially when they're gluten free, sugar free and low fructose (you're welcome!). And we reckon Mother's Day is the perfect reason to make these tasty, yummy things. Choc, coconutty goodness in a cake/slicey thing!
Peanut butter slice
If your Mumma is a peanut butter fan (ours is) then she'll love this choc peanut butter slice. It's actually a big favourite of lots of Merrymakers… so yay, make it!
Orange and poppyseed cake
Oh such a classic… therefore belongs on the high tea table. This recipe is SUPER easy to make and moist (gross word but yay). Yum orange and poppyseed cake for the win!
Vegetarian pizza
You MUST MUST make them mini though… because… high tea! This special base is from our Get Merry book (there's also a Chicken Tikka pizza in the book too!).
Sticky date pudding with caramel sauce
Speaking of classics… we couldn't do a healthy high tea without Sticky Date Pudding! The best thing about this recipe is that it's actually Merrymaker Mum's recipe… so it's even more special! Grab the recipe here (another ridiculously easy one!).
Sweetener free coconut jam slice
Omg talk about freaking deeeelish. We made this during our sweetener free phase… so it's like super good for you, you could literally eat it for breakfast. Here is the recipe (mum made this one too! Hehe!).
Chive and mustard scones
Omg YAS. Seriously, make these, top with butter… go to food heaven. Grab the recipe!
Salted caramel slice
Could we leave this off the list? No way… don't even think about it! Depending on what your Mum prefers… make the super sweet original Merrymaker salted caramel slice… or go for the low fructose version here! Either/either… Mum. WILL. LOVE!
Zucchini and carrot bites
These are a serious crowd pleaser! Whenever we make them they are gobbled up in seconds. So yes, you should double the batch! Grab this recipe and 95 others from our Get Merry book… plus, don't forget about the special Mother's Day bonus we're adding!
Carrot walnut loaf
Even though we made this for Easter… it's an all-year round kinda recipe… and is most definitely perfect for high tea! We served it with this delish lemon yoghurt icing too which makes it even more yumballs! Grab the recipe!
Crackers
Grain free and gluten free super easy crackers to go with all your dippys… or yum cheese… whatever floats your boat (and of course… think about Mum's boat too!). This cracker recipe is super quick to make! Here's an egg free version if you like!
Raspberry choc ganache
Do you think we make too many chocolate recipes? Nah… never! This healthy raspberry choc ganache is so freaking yum and if you've never made it before… now is your chance! You want to make this when you have friends to share it with… because once you pop you seriously can't stop. YUM!
Healthy parfait
Anything that looks this good gets a big tick from us! You really can get creative with your parfait… or stick the recipe… whatever you feel goes! Another EPIC recipe from our Get Merry healthy cook book!
Woh, think we gave you enough ideas to make your healthy Mother's Day high tea the epic-est high tea that ever was!
Be sure to share your Merry Mother's Day moments with us on social, use #getmerry and we can re-share some of our faves! Yay!
Don't forget to check out our super spesh Mother's Day gift packs to really treat your mum! She deserves it!
Always merrymaking,
Emma + Carla
p.s love you mum <3